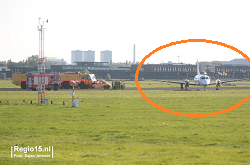 2015-09-30 Loganair SF-340 ran off runway on emr landing at Rotterdam
The aircraft rolled off the side of the runway at low at Rotterdam-The Hague Airport , Netherlands.

Soon after departure from Rotterdam the pilots radioed hydraulic problems and elected to enter a holding pattern to work out the appropriate checklists.
About 45 minutes later, a safe landing was carried out on runway 06, however the aircraft – after coming to a complete stop on the runway-  continued to taxi but then directional control was lost.
The Saab 340 veered left until it came to rest with all undercarriage on the grass a few meters further.
All on board remained unhurt.
OCCURENCE DATASET
Date: 2015-09-30 Time: 16:36
Location: EHRD RTM Rotterdam
Country: Netherlands
Flight phase: LDG – Flare, Landing Roll, Aborted Landing after Touchdown
Damage to a/c: minor
Flight
Flight no.: LC 843
From: EHRD/RTM: Rotterdam To: EGPD/ABZ: Aberdeen
Type: Passenger
Operator: Loganair
Leased from: Flybe
Aircraft
Type: Saab SF-340
Registration: G-LGNJ
Age a/c: 25,8 years
Constr. No.: 173
Tweet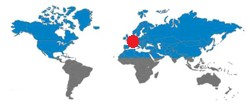 | | | | | |
| --- | --- | --- | --- | --- |
| | Crew | Pax | Other | Total |
| Occupants | | | 0 | |
| Fatalities |  0 | 0 | 0 | 0 |
| Injuries |  0 | 0 |  0 | 0 |
JACDEC 25-year Statistics :
13th safety occurence for the operator
60 safety occurence of type (SF-340)
7tht safety occurence at Rotterdam Airport
2nd safety occurence for aircraft in question
– in May 2014 this aircraft suffered massive ice
build-up during flightover the North Sea
Image & Information Sources
G-LGNJ after landing

Flightpath Loganair LC843

AP = Airport / AL = Airlines / Avn = Aviation / AW = Airways / C/N: Construction Number / DSP = Domestic Scheduled Passenger / DNP = Domestic Non-Scheduled Passenger / DSC = Domestic Scheduled Cargo / DNC= Domestic Non-Scheduled Cargo / GND = On the ground / parked, stored / FMN= Flying Mission, Air Work / FRY = Ferry-, Positioning Flight / IMC = Intrument Meteorological (flying) Conditions / ISP = International Scheduled Passenger / ISC=International Scheduled Cargo / INP = International Non-Scheduled Passenger / INC =International Non-Scheduled Cargo/ OPS = Flight Operation(s) / NRV = Non-revenue, Private Flight / TRN =Training Flight /  TST = Test & Certification Flight / VMC = Visual Meteorological (flying) Conditions