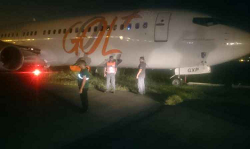 2015-09-25 GOL Boeing 737-800 off runway during backtrack at Rio-Santos Dumont
During line-up for take-off, the 737 skidded off paved surface ending halfway in the grass. There were no injuries.
GOL flight 1668 was lined-up for take-off on runway 02 at Rio de Janeiro Santos Dumont Airport, when take-off direction was changed to runway 20 because of a change in wind direction.
During backtracking the pilots aparently lost orientation and the 737 rolled beyond the edge of paved until its left maingear came to rest on the grass.
There were no reports about any injuries on board.
The airport was forced to close for traffic.
A Gol plane skidded off the runway before takeoff at the airport Santos Dumont late on Friday (25). The plane was going toward Belo Horizonte it would have been stuck in the grass which is close to the track. There were no injuries.
---
OCCURENCE DATASET
Date: 2015-09-25 Time: 20:45
Location: SBRJ SDU Rio de Janeiro Santos Dumont
Country: Brazil
Flight phase: TXI – Taxi, Power Back
Damage to a/c: none / minor
Flight
Flight no.: G3 1668
From: SBRJ/SDU: Rio de Janeiro Santos Dumont To: SBCF/CNF: Belo Horizonte Confins Tancredo
Type: Passenger
Operator: GOL – Transportes Aéreos
Leased from: Unknown
Aircraft
Type: Boeing 737-800
Registration: PR-GXP
Age a/c: 1,7 years
Constr. No.: 41163
Tweet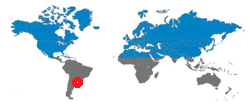 | | | | | |
| --- | --- | --- | --- | --- |
| | Crew | Pax | Other | Total |
| Occupants | | 140 | 0 | |
| Fatalities |  0 | 0 | 0 | 0 |
| Injuries |  0 | 0 |  0 | 0 |
JACDEC 25-year Statistics :
15th safety occurence for the operator
313 safety occurence of type (B737-800)
11th safety occurence at Rio-Santos Dumont
1st safety occurence for aircraft in question
Image & Information Sources
PR-GXP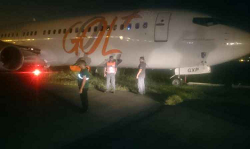 PR-GXP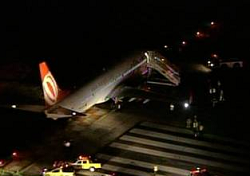 PR-GXP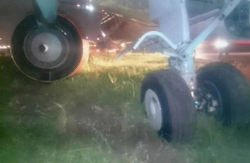 AP = Airport / AL = Airlines / Avn = Aviation / AW = Airways / C/N: Construction Number / DSP = Domestic Scheduled Passenger / DNP = Domestic Non-Scheduled Passenger / DSC = Domestic Scheduled Cargo / DNC= Domestic Non-Scheduled Cargo / GND = On the ground / parked, stored / FMN= Flying Mission, Air Work / FRY = Ferry-, Positioning Flight / IMC = Intrument Meteorological (flying) Conditions / ISP = International Scheduled Passenger / ISC=International Scheduled Cargo / INP = International Non-Scheduled Passenger / INC =International Non-Scheduled Cargo/ OPS = Flight Operation(s) / NRV = Non-revenue, Private Flight / TRN =Training Flight /  TST = Test & Certification Flight / VMC = Visual Meteorological (flying) Conditions