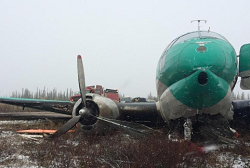 2015-09-25 Buffalo Airways Curtiss C-46 damaged on landing at Deline, NWT
The vintage Curtiss C-46 cargo plane was badly damaged in an emergency landing near Deline, NWT. All on board remained unhurt.
The aircraft was on a routine cargo flight from Yellowknife to Norman Wells (NWT) cruising en-route at 6500 ft.,  when the pilot radioed engine problems and elected to discontinue make an emergency landing at nearby Deline. 
The right engine oil quantity dropped caused by the failure of a scavenage pump. The right engine was shut down but the right prop failed to go into the feathered position caused additional drag. The aircraft was forced to give up altitude and the pilots looked for a place to land.
First alternate destination at Tulita was given up because the rate of descent was greater than expected. So the only remaining landing option was the small runway (1200 m) at Deline.
The pilots elected to keep their undercarriage up in order to maintain a flyable airspeed.
During the ensuing belly landing, the aircraft veered off the end of the runway where it came to rest on uneven ground.
All crewmembers on board remained uninjured. The C-36 Commando is likely to be considered a hull loss.
The lower fuselage , both wings and engines sustained major damage. Damage is said to be beyond repair.
Deline Airport has a gravel runway with limited ground navigation aids. The runway  is 1200 meters (3928 ft.) in lengh.
Canadian TSB is investigating the accident.
---
OCCURENCE DATASET
Date: 2015-09-25 Time: 12:30
Location: CYWJ YWJ Deline area
Country: Canada
Google: [LINK]
Flight phase: EMG – Controlled descent in response to a perceived emergency situation.
Damage to a/c: substantial
Flight
Flight no.:
From: CYZF/YZF: Yellowknife To: CYVQ/YVQ: Norman Wells
Type: Cargo
Operator: Buffalo Airways
Tweet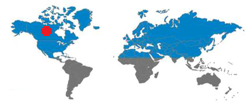 Aircraft
Type: Curtiss C-46 Commando
Registration: C-GTXW
Age a/c: 71,3 years
Constr. No.: 30386
Msn 30386 previous safety occurences
2000-09-28 overran runway at Red Lake after aborted take-off
| | | | | |
| --- | --- | --- | --- | --- |
| | Crew | Pax | Other | Total |
| Occupants |  4 |  0 | 0 | 4 |
| Fatalities |  0 | 0 | 0 | 0 |
| Injuries |  0 | 0 |  0 | 0 |
JACDEC 25-year Statistics :
11th safety occurence for the operator
36th safety occurence of type (Curtiss C-46)
335th safety occurence in Canada
2nd safety occurence for aircraft in question
– 2000-09-28 overran runway at Red Lake, Canada
Image & Information Sources
C-46 after the accident

C-46 after the accident

C-46 after the accident

AP = Airport / AL = Airlines / Avn = Aviation / AW = Airways / C/N: Construction Number / DSP = Domestic Scheduled Passenger / DNP = Domestic Non-Scheduled Passenger / DSC = Domestic Scheduled Cargo / DNC= Domestic Non-Scheduled Cargo / GND = On the ground / parked, stored / FMN= Flying Mission, Air Work / FRY = Ferry-, Positioning Flight / IMC = Intrument Meteorological (flying) Conditions / ISP = International Scheduled Passenger / ISC=International Scheduled Cargo / INP = International Non-Scheduled Passenger / INC =International Non-Scheduled Cargo/ OPS = Flight Operation(s) / NRV = Non-revenue, Private Flight / TRN =Training Flight /  TST = Test & Certification Flight / VMC = Visual Meteorological (flying) Conditions