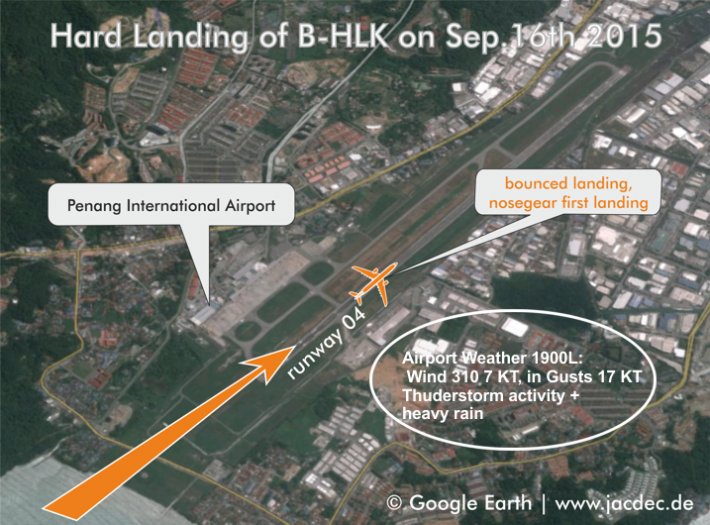 2015-09-16 Dragonair Airbus A330-300 subst damaged in hard landing at Penang
Dragonair flight KA 691 received serious structural damage during an abnormal runway contact at Penang Airport, Malaysia.
On landing runway 04 in gusty weather, the aircraft bounced on landing. According to a report in AviationHerald,  the 2nd touchdown occured with a force of +2,8G on the nosegear, resulting in structural bending damage to the foreward fuselage and airframe.
The pilots managed to control the aircraft and slowed it down to taxi speed. The A330 reached the terminal stand under its own power.
There were no injuries, however a number of passengers were traumatised by the unannounced force of landing impact. 
The aircraft is still under investigation and is due to remain in Penang for further inspections.
Local Weather:
WMKP 161100Z 31007G17KT 4000 -TSRA FEW008 FEW017CB SCT023 OVC250 23/21 Q1006 TEMPO 5000 -TSRA
WMKP 161030Z 21006KT 5000 HZ FEW010 BKN140 BKN270 28/24 Q1006 TEMPO 5000 RA
OCCURENCE DATASET
Date: 2015-09-16 Time: 18:45
Location: WMKP PEN Penang
Country: Malaysia
Flight phase: LDG – Flare, Landing Roll, Aborted Landing after Touchdown
Damage to a/c: substantial
Flight
Flight no.: KA 691
From: VHHH/HKG: Hong Kong-Chek Lap Kok Intl Airport To: WMKP/PEN: Penang
Type: Passenger
Operator: Dragonair
Aircraft
Type: Airbus A330-300
Registration: B-HLK
Age a/c: 22,8 years
Constr. No.: 17
Tweet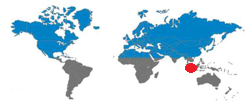 | | | | | |
| --- | --- | --- | --- | --- |
| | Crew | Pax | Other | Total |
| Occupants | | | 0 | |
| Fatalities |  0 | 0 | 0 | 0 |
| Injuries |  0 | 0 |  0 | 0 |
JACDEC 25-year Statistics :
6th safety occurence for the operator
75th safety occurence of type (A330-300)
3rd safety occurence at Penang Airport
1st safety occurence for aircraft in question
Image & Information Sources
AP = Airport / AL = Airlines / Avn = Aviation / AW = Airways / C/N: Construction Number / DSP = Domestic Scheduled Passenger / DNP = Domestic Non-Scheduled Passenger / DSC = Domestic Scheduled Cargo / DNC= Domestic Non-Scheduled Cargo / GND = On the ground / parked, stored / FMN= Flying Mission, Air Work / FRY = Ferry-, Positioning Flight / IMC = Intrument Meteorological (flying) Conditions / ISP = International Scheduled Passenger / ISC=International Scheduled Cargo / INP = International Non-Scheduled Passenger / INC =International Non-Scheduled Cargo/ OPS = Flight Operation(s) / NRV = Non-revenue, Private Flight / TRN =Training Flight /  TST = Test & Certification Flight / VMC = Visual Meteorological (flying) Conditions