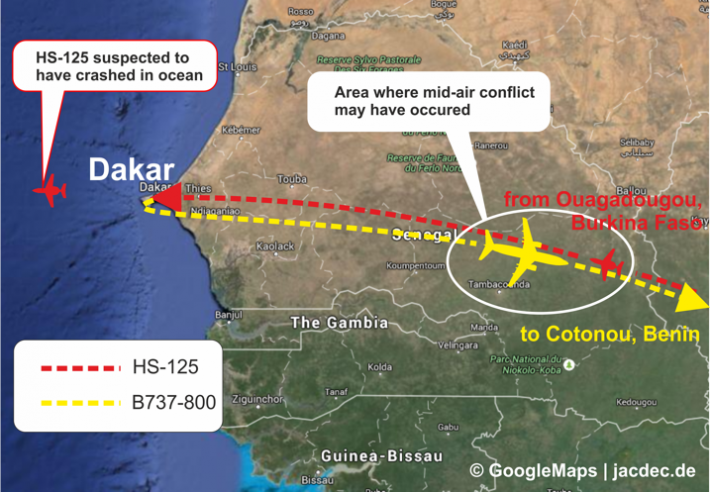 2015-09-05 Ceiba 737-800 mid-air collision with HS-125 Jet over Senegal
UPDATE
On January 2016, the Senegal Bureau d'enquête et d'Analyse (BEA) reported an update to the current investigation process. 
The Hawker HS-125 erroneously was flying at a level 1000 ft above their original clearance. ATC cleared the flight to 34.000 ft. (FL 340) but instead the pilots levelled of at 35.000 ft (FL 350) putting themselves on the same altitude as the opposite flying 737.
Air Traffic Control did not remind the pilots to correct their level nor did the pilots do any altitude changes before the collision took place.
The aircraft was involved in a mid-air collision with a smaller Hawker HS-125 business jet whilst flying over Senegal. The latter aircraft later crashed in sea killing all seven on board.
Ceiba flight CEL 71, a Boeing 737-800, was flying enroute at 35.000 ft, heading southeast on airway UA601, a few minutes east of Tambacounda VOR when it encountered opposite traffic at the same level.
The other aircraft was a Hawker HS-125 (registration 6V-AIM) opertated by Senegalair. This aircraft was on a medical flight from Ouagadougou to Dakar with four passengers (among them a patient) and three crewmembers.
It is understood that no reports about any conflict were transmitted to Bamako air traffic control. The controller later raised alarm when the HS-125 failed to answer to repeated calls.
Both aircraft flew away from each other. The pilots of the 737-800 altered their destination to Malabo, Equatorial Guinea, their home base giving technical and security reasons for skipping their scheduled intermediate destination Cotonou.
But the smaller Hawker Jet never landed at Dakar. It continued to fly at cruiselevel, overflew the coastline until it ran out of fuel and presumably crashed into the ocean about 60 miles west of Dakar.
A search operation is underway at sea and in the air but no trace was found from this flight yet.
The next days, Senegal´s Civil Aviation Authority ANACIM published a press statement where the possibility of a mid-air collision was mentioned.
ANACIM press report (pdf): http://anacim.sn/IMG/pdf/-181.pdf
On Sep 8th Senegal officials (from foreign ministry) confirmed that a mid.air collision actually must have taken place because wing damage was found on the 737 that was consistent with a collision in mid-air.  The upper third of  the right winglet was sheared off (see photo below), causing "unusual noises" heared by a number of passengers.
According to unconfirmed reports, there was a lack of en-route radar coverage preventing controllers to detect any aerial conflicts or STCA/TCAS alerts in time.
Apart from Senegal, french authority BEA was consulted to join the investigation.
As of Sep 17th , the 737 still remained on the ground Malabo awaiting repairs.
---
OCCURENCE DATASET
Date: 2015-09-05 Time: ~19:10
Location: eastern Senegal airspace
Country: Senegal
Flight phase: ENR – Cruise, Descent, Holding
Damage to a/c: none
Flight
Flight no.: CEL 71
From: GOOY/DKR: Dakar Yoff To: FGSL/SSG: Malabo
Type: Passenger
Operator: Ceiba Intercontinental
Aircraft
Type: Boeing 737-800
Registration: 3C-LLY
Age a/c: 1,6 years
Constr. No.: 41157
Tweet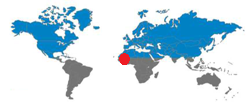 Accident aircraft 6V-AIM

© flickr
| | | | | |
| --- | --- | --- | --- | --- |
| | Crew | Pax | Other | Total |
| Occupants | – | – | 7 | – |
| Fatalities | | 0 | 7 | 7 |
| Injuries |  0 | 0 |  0 | 0 |
JACDEC 25-year Statistics :
1sth (and worst) safety occurence for the operator
311th safety occurence of type (Boeing 737-800)
22nd mid-air conflict occurence in Africa
1st safety occurence for aircraft in question
Image & Information Sources
3C-LLY B738  after the incident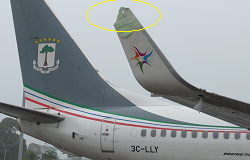 AP = Airport / AL = Airlines / Avn = Aviation / AW = Airways / C/N: Construction Number / DSP = Domestic Scheduled Passenger / DNP = Domestic Non-Scheduled Passenger / DSC = Domestic Scheduled Cargo / DNC= Domestic Non-Scheduled Cargo / GND = On the ground / parked, stored / FMN= Flying Mission, Air Work / FRY = Ferry-, Positioning Flight / IMC = Intrument Meteorological (flying) Conditions / ISP = International Scheduled Passenger / ISC=International Scheduled Cargo / INP = International Non-Scheduled Passenger / INC =International Non-Scheduled Cargo/ OPS = Flight Operation(s) / NRV = Non-revenue, Private Flight / TRN =Training Flight /  TST = Test & Certification Flight / VMC = Visual Meteorological (flying) Conditions