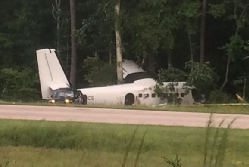 2015-09-06 Rampart Avn DHC6 Twin Otter in take-off accident at Franklin, NC, USA
On take-off (probably from runway 26) at Franklin County Airport, the pilots lost directional control and drifted to the left of the runway until the left wing hit trees.
All three on board  survived but two people were treated in hospital for minor injuries.
According to eyewitness accounts, the aircraft hit trees after getting airborne at the for end of the runway.
Substantial damage occured to the right wing and cockpit.
The cause accident is under investigation.
---
OCCURENCE DATASET
Date: 2015-09-06 Time: 14:45
Location: KUOS Franklin County Airport
Country: USA
Google Maps: (LINK)
Flight phase: TOF – Take-off, Rejected Take-off
Damage to a/c: substantial
Flight
Flight no.:
From: KUOS/: Franklin County Airport To: 0000/: NONE
Type: Non Revenue
Operator: Rampart Aviation
Leased from: Unknown
Aircraft
Type: DHC-6 Twin Otter
Registration: N181CS
Age a/c: 46,8 years
Constr. No.: 181
Tweet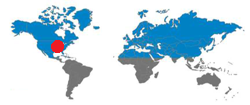 | | | | | |
| --- | --- | --- | --- | --- |
| | Crew | Pax | Other | Total |
| Occupants | 2 |  0 | 0 | 0 |
| Fatalities |  0 | 0 | 0 | 0 |
| Injuries | 2 | 0 |  0 | 2 |
JACDEC 25-year Statistics :
1st (and worst) safety occurence for the operator
250th safety occurence of type (DHC-6)
1st safety occurence at Franklin County AP
2nd safety occurence for aircraft in question (last 1974)
Image & Information Sources
AP = Airport / AL = Airlines / Avn = Aviation / AW = Airways / C/N: Construction Number / DSP = Domestic Scheduled Passenger / DNP = Domestic Non-Scheduled Passenger / DSC = Domestic Scheduled Cargo / DNC= Domestic Non-Scheduled Cargo / GND = On the ground / parked, stored / FMN= Flying Mission, Air Work / FRY = Ferry-, Positioning Flight / IMC = Intrument Meteorological (flying) Conditions / ISP = International Scheduled Passenger / ISC=International Scheduled Cargo / INP = International Non-Scheduled Passenger / INC =International Non-Scheduled Cargo/ OPS = Flight Operation(s) / NRV = Non-revenue, Private Flight / TRN =Training Flight /  TST = Test & Certification Flight / VMC = Visual Meteorological (flying) Conditions 
AP = Airport / AL = Airlines / Avn = Aviation / AW = Airways / C/N: Construction Number / DSP = Domestic Scheduled Passenger / DNP = Domestic Non-Scheduled Passenger / DSC = Domestic Scheduled Cargo / DNC= Domestic Non-Scheduled Cargo / GND = On the ground / parked, stored / FMN= Flying Mission, Air Work / FRY = Ferry-, Positioning Flight / IMC = Intrument Meteorological (flying) Conditions / ISP = International Scheduled Passenger / ISC=International Scheduled Cargo / INP = International Non-Scheduled Passenger / INC =International Non-Scheduled Cargo/ OPS = Flight Operation(s) / NRV = Non-revenue, Private Flight / TRN =Training Flight /  TST = Test & Certification Flight / VMC = Visual Meteorological (flying) Conditions