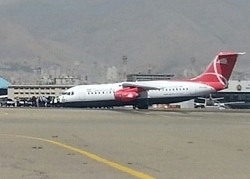 2015-08-31 Qeshm Airlines RJ-100 nosegear-up landing at Tehran
On approach to Yazhd Airport, the pilots received indication about a problem with the nosegear system. The nosegear failed to extend.
Further approach was abandoned and the pilots elected to return to Tehran.
After multiple efforts to lower the nosegear failed, the aircraft was forced to make a nosegear-up landing on runway 29L(eft).
The Avro Jet came to a safe stop on the runway near taxi way "Bravo 3". There were no injuries.
Damage to the aircraft is considered substantial.
OCCURENCE DATASET
Date: 2015-08-31 Time: 13:10
Location: OIII THR Tehran Mehrabad Intl
Country: Iran
Flight phase: LDG – Flare, Landing Roll, Aborted Landing after Touchdown
Damage to a/c: substantial
Flight
Flight no.:
From: OIII/THR: Tehran Mehrabad Intl To: OIYY/AZD: Yazd
Type: Non Revenue
Operator: Qeshm Airlines
Aircraft
Type: Avro RJ-100
Registration: EP-FQU
Age a/c: –
Constr. No.:
Tweet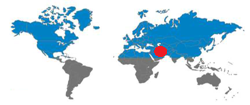 | | | | | |
| --- | --- | --- | --- | --- |
| | Crew | Pax | Other | Total |
| Occupants | 2 |  0 | 0 | 2 |
| Fatalities |  0 | 0 | 0 | 0 |
| Injuries |  0 | 0 |  0 | 0 |
JACDEC 25-year Statistics :
3rd safety occurence for the operator
51 safety occurence of type (RJ-100)
66th safety occrence in Iran
1st safety occurence for aircraft in question
Image & Information Sources
AP = Airport / AL = Airlines / Avn = Aviation / AW = Airways / C/N: Construction Number / DSP = Domestic Scheduled Passenger / DNP = Domestic Non-Scheduled Passenger / DSC = Domestic Scheduled Cargo / DNC= Domestic Non-Scheduled Cargo / GND = On the ground / parked, stored / FMN= Flying Mission, Air Work / FRY = Ferry-, Positioning Flight / IMC = Intrument Meteorological (flying) Conditions / ISP = International Scheduled Passenger / ISC=International Scheduled Cargo / INP = International Non-Scheduled Passenger / INC =International Non-Scheduled Cargo/ OPS = Flight Operation(s) / NRV = Non-revenue, Private Flight / TRN =Training Flight /  TST = Test & Certification Flight / VMC = Visual Meteorological (flying) Conditions