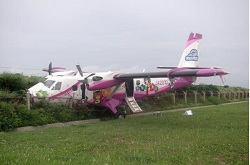 2015-08-28 First Flying DHC-6 Twin Otter off runway at Okinawa
On landing at Aguni Island, the aircraft received substantial damage when it veered off the runway.
According to local media reports the regional aircraft suffered a punctured tire during the landing run on runway 19 (dimensions 800 x 25 meters).
The pilots were unable to hold the aircraft on the runway and they drifted to the right of the runway where it came to rest in a drainage ditch and dense bushes.
It is understood that all 14 persons were brought to local hospital for minor injuries.
Japan authority JTSB is investigating.
NOTE: the aircraft was delivered 1st hand from the manufacturer in March 2015.
OCCURENCE DATASET
Date: 2015-08-28 Time: 08:55
Location: RORA AGJ Aguni
Country: Japan
Flight phase: LDG – Flare, Landing Roll, Aborted Landing after Touchdown
Damage to a/c: substantial
Flight
Flight no.: DAK 101
From: ROAH/OKA: Naha Okinawa To: RORA/AGJ: Aguni
Type: Passenger
Operator: First Flying (Japan)
Aircraft
Type: DHC-6 Twin Otter
Registration: JA201D
Age a/c: 0.5 years
Constr. No.: 915
Tweet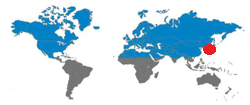 | | | | | |
| --- | --- | --- | --- | --- |
| | Crew | Pax | Other | Total |
| Occupants | 2 | 12 | 0 | 14 |
| Fatalities |  0 | 0 | 0 | 0 |
| Injuries |  0 | 0 |  0 | 0 |
JACDEC 25-year Statistics :
1st safety occurence for the operator
249 safety occurence of type (DHC-6)
1st safety occurence at Aguni Airport
1st safety occurence for aircraft in question
Image & Information Sources
Accident JA201D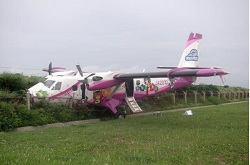 AP = Airport / AL = Airlines / Avn = Aviation / AW = Airways / C/N: Construction Number / DSP = Domestic Scheduled Passenger / DNP = Domestic Non-Scheduled Passenger / DSC = Domestic Scheduled Cargo / DNC= Domestic Non-Scheduled Cargo / GND = On the ground / parked, stored / FMN= Flying Mission, Air Work / FRY = Ferry-, Positioning Flight / IMC = Intrument Meteorological (flying) Conditions / ISP = International Scheduled Passenger / ISC=International Scheduled Cargo / INP = International Non-Scheduled Passenger / INC =International Non-Scheduled Cargo/ OPS = Flight Operation(s) / NRV = Non-revenue, Private Flight / TRN =Training Flight /  TST = Test & Certification Flight / VMC = Visual Meteorological (flying) Conditions 
AP = Airport / AL = Airlines / Avn = Aviation / AW = Airways / C/N: Construction Number / DSP = Domestic Scheduled Passenger / DNP = Domestic Non-Scheduled Passenger / DSC = Domestic Scheduled Cargo / DNC= Domestic Non-Scheduled Cargo / GND = On the ground / parked, stored / FMN= Flying Mission, Air Work / FRY = Ferry-, Positioning Flight / IMC = Intrument Meteorological (flying) Conditions / ISP = International Scheduled Passenger / ISC=International Scheduled Cargo / INP = International Non-Scheduled Passenger / INC =International Non-Scheduled Cargo/ OPS = Flight Operation(s) / NRV = Non-revenue, Private Flight / TRN =Training Flight /  TST = Test & Certification Flight / VMC = Visual Meteorological (flying) Conditions