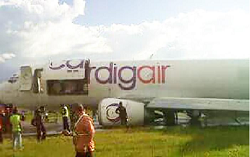 2015-08-28 Cardig Air Boeing 737-300F substantially damaged in Wamena
The 737 cargo aircraft was substantially damaged in a landing mishap at Wamena Airport, Papua, Indonesia.
Reportedly the aircraft undershot runway 15 touching down ahead of the runway threshold.
As a result the undercarriage was damaged and the left maingear dug in causing the left wing to drop and the left engine pod scraped on the ground before the 737 came to a stop in the vicitiy of taxiway "Echo".
There were no reports about any injuries on board.
The aircraft carried a cargo of 30 tons of rice.
At the time of the landing, the skies were clear but a gusty wind was blowing along the runway with velocity peaks of 20-25 knots.
The Boeing 737 ist the largest aircraft allowed to land at Wamena and pilots often aimed their touchdown point closer to the threshold to save a maximum of landing distance for stopping.
OCCURENCE DATASET
Date: 2015-08-28 Time: 15:00
Location: WAJW WMX Wamena
Country: Indonesia
Flight phase: LDG – Flare, Landing Roll, Aborted Landing after Touchdown
Damage to a/c:  substantial
Flight
Flight no.: 8F 197
Flight on FR24: FlightRadar24
From: WAJJ/DJJ: Jayapura Sentani Intl Airport To: WAJW/WMX: Wamena
Type: Cargo
Operator: Cardig Air
Aircraft
Type: Boeing 737-300F
Registration: PK-BBY
Age a/c: 45.7 years
Constr. No.: 23535
Tweet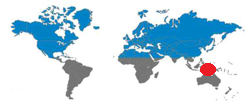 Investigating authority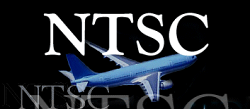 Download FINAL Report (pdf)
| | | | | |
| --- | --- | --- | --- | --- |
| | Crew | Pax | Other | Total |
| Occupants | 2 | 0 | 0 | 2 |
| Fatalities |  0 | 0 | 0 | 0 |
| Injuries |  0 | 0 |  0 | 0 |
JACDEC 25-year Statistics :
1st safety occurence for the operator
196 safety occurence of type (Boeing 737-300)
12th safety occurence at Wamena Airport (2nd this year)
1st safety occurence for aircraft in question
Image & Information Sources
AP = Airport / AL = Airlines / Avn = Aviation / AW = Airways / C/N: Construction Number / DSP = Domestic Scheduled Passenger / DNP = Domestic Non-Scheduled Passenger / DSC = Domestic Scheduled Cargo / DNC= Domestic Non-Scheduled Cargo / GND = On the ground / parked, stored / FMN= Flying Mission, Air Work / FRY = Ferry-, Positioning Flight / IMC = Intrument Meteorological (flying) Conditions / ISP = International Scheduled Passenger / ISC=International Scheduled Cargo / INP = International Non-Scheduled Passenger / INC =International Non-Scheduled Cargo/ OPS = Flight Operation(s) / NRV = Non-revenue, Private Flight / TRN =Training Flight /  TST = Test & Certification Flight / VMC = Visual Meteorological (flying) Conditions 
AP = Airport / AL = Airlines / Avn = Aviation / AW = Airways / C/N: Construction Number / DSP = Domestic Scheduled Passenger / DNP = Domestic Non-Scheduled Passenger / DSC = Domestic Scheduled Cargo / DNC= Domestic Non-Scheduled Cargo / GND = On the ground / parked, stored / FMN= Flying Mission, Air Work / FRY = Ferry-, Positioning Flight / IMC = Intrument Meteorological (flying) Conditions / ISP = International Scheduled Passenger / ISC=International Scheduled Cargo / INP = International Non-Scheduled Passenger / INC =International Non-Scheduled Cargo/ OPS = Flight Operation(s) / NRV = Non-revenue, Private Flight / TRN =Training Flight /  TST = Test & Certification Flight / VMC = Visual Meteorological (flying) Conditions