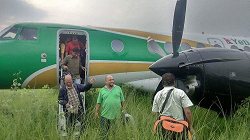 2015-08-20 Yeti Airlines Jetstream J41 overran runway at Bhairahawa
During an baorted take-off, the aircraft ran beyond the end of the runway.
During its take-off run, the pilots spotted a flock of birds potentially inflicting their departure path, so the decision was made to abort the take-off at high speed.

The remaining take-off runway distance was insufficient to bring the J41 to a halt, so the aircraft overran the end of the runway coming to a stop amidst deep grass and bushes.
It is understood that all on board remained unhurt.
The aircraft sustained minor damage.
OCCURENCE DATASET
Date: 2015-08-20 Time: 00:00
Location: VNBW BWA Bhairahawa
Country: Nepal
Flight phase: TOF – Take-off, Rejected Take-off
Damage to a/c: minor
Flight
Flight no.: YT 894
From: VNBW/BWA: Bhairahawa To: VNKT/KTM: Kathmandu
Type: Passenger
Operator: Yeti Airlines
Aircraft
Type: BAe Jetstream 41
Registration: 9N-AJC
Age a/c: 18.9 years
Constr. No.: 41096
Tweet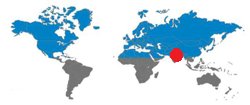 | | | | | |
| --- | --- | --- | --- | --- |
| | Crew | Pax | Other | Total |
| Occupants | x | x | 0 | 28 |
| Fatalities | 0 | 0 | 0 | 0 |
| Injuries | 0 | 0 |  0 | 0 |
JACDEC 25-year Statistics :
7th (safety occurence for the operator
65 safety occurence of type (BAe Jetstream)
1st safety occurence for the airport
1st safety occurence for aircraft in question
Image & Information Sources
wreckage of IL257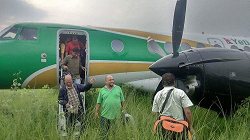 AP = Airport / AL = Airlines / Avn = Aviation / AW = Airways / C/N: Construction Number / DSP = Domestic Scheduled Passenger / DNP = Domestic Non-Scheduled Passenger / DSC = Domestic Scheduled Cargo / DNC= Domestic Non-Scheduled Cargo / GND = On the ground / parked, stored / FMN= Flying Mission, Air Work / FRY = Ferry-, Positioning Flight / IMC = Intrument Meteorological (flying) Conditions / ISP = International Scheduled Passenger / ISC=International Scheduled Cargo / INP = International Non-Scheduled Passenger / INC =International Non-Scheduled Cargo/ OPS = Flight Operation(s) / NRV = Non-revenue, Private Flight / TRN =Training Flight /  TST = Test & Certification Flight / VMC = Visual Meteorological (flying) Conditions 
AP = Airport / AL = Airlines / Avn = Aviation / AW = Airways / C/N: Construction Number / DSP = Domestic Scheduled Passenger / DNP = Domestic Non-Scheduled Passenger / DSC = Domestic Scheduled Cargo / DNC= Domestic Non-Scheduled Cargo / GND = On the ground / parked, stored / FMN= Flying Mission, Air Work / FRY = Ferry-, Positioning Flight / IMC = Intrument Meteorological (flying) Conditions / ISP = International Scheduled Passenger / ISC=International Scheduled Cargo / INP = International Non-Scheduled Passenger / INC =International Non-Scheduled Cargo/ OPS = Flight Operation(s) / NRV = Non-revenue, Private Flight / TRN =Training Flight /  TST = Test & Certification Flight / VMC = Visual Meteorological (flying) Conditions