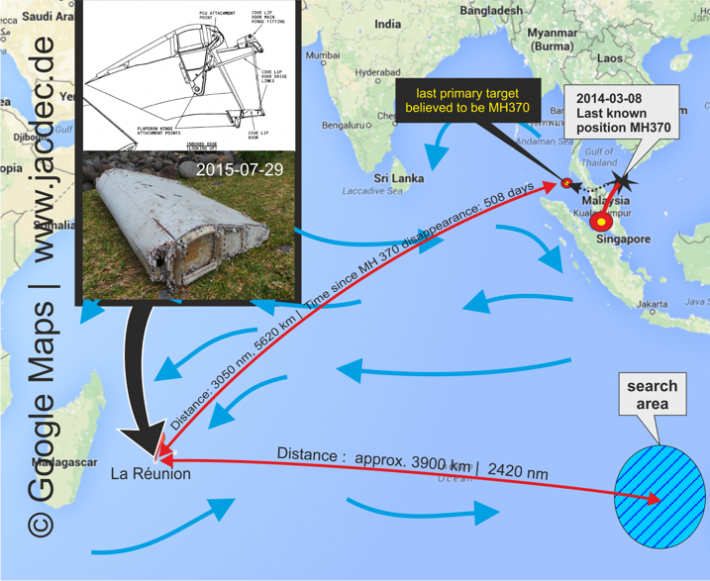 2014-03-08 Malaysia Airlines MH370 disappeared over Gulf of Thailand
UPDATE 2016-09-14
ATSB:
On 20 June 2016, a large item of debris was found on the island of Pemba, off the coast of Tanzania. Preliminary identification from photographs indicated that the item was likely a section of Boeing 777 outboard flap.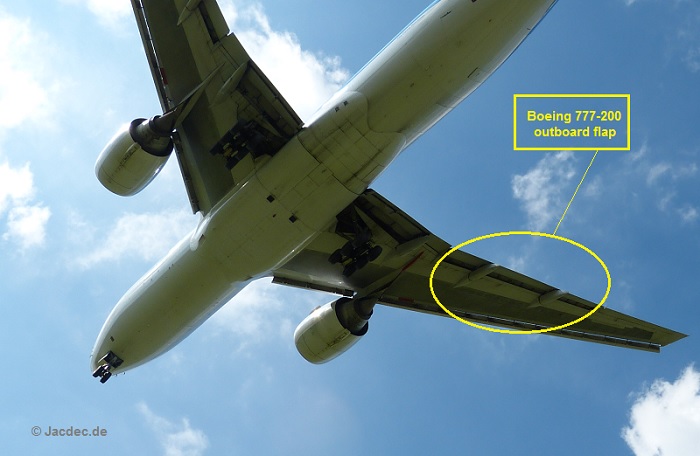 It was confirmed that Part No. 5 was the inboard section of a Boeing 777 right, outboard flap, originating from the Malaysian Airlines aircraft registered 9M-MRO.
Assistance from the Australian Transport Safety Bureau (ATSB) was requested by the Malaysian Government in the formal identification of the item, to determine if the item came from the Malaysian Airlines Berhad (MAB) aircraft, registered 9M-MRO and operating as MH370. The Malaysian investigation team secured the item of debris and arranged shipping to the ATSB facilities in Canberra.
A date stamp associated with one of the part numbers indicated manufacture on 23 January 2002 (Figure 2), which was consistent with the 31 May 2002 delivery date for 9M-MRO.
---
2015-07-30
The Australian Transport Safety Bureau has identified two more pieces of debris recovered off the African coast as most likely coming from the Boeing 777-200ER that was operatingMalaysia Airlines flight MH370.
In an update report, the Bureau says that the two pieces were found independently at beaches in Mossel Bay, South Africa on 22 March, and Rodrigues Island in Mauritius on 30 March.
'Part 3' was identified as a segment from an engine cowling due to the Rolls-Royce stenciling, and it conformed to applicable drawings from Boeing as being from a 777.
Although the stencil was not consistent with that originally used by the manufacturer, it did conform with the one used by Malaysia Airlines on its 777s. Nonetheless, the Bureau says that there were no identifiers tracing it specifically to the missing jet, which was registered 9M-MRO.
Part number 4 was preliminarily identified by the decorative laminate as an interior panel from the main cabin. The location of a piano hinge on the part surface was consistent with a work-table support leg, utilised on the exterior of the MAB Door R1 (forward, right hand) closet panel (Figure 2). The part materials, dimensions, construction and fasteners were all consistent with the drawing for the panel assembly and matched that installed on other MAB Boeing 777 aircraft at the Door R1 location.
---
2016-04-19 Australian Investigation Authority ATSB published its update on the debris found at the coast of Mozambique on Feb. 27th. Both examined objects were clearly identified belong in fact to a Boeing 777. 
| | |
| --- | --- |
| Check the full report here:  | |
PART 1 – Segment from a Boeing 777 flap track fairing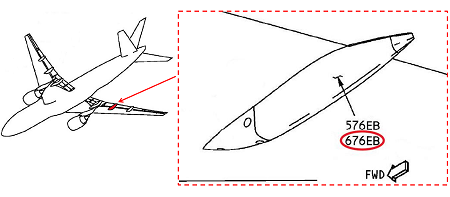 Part2 – Segment of a Boeing 777 RH horizontal stabilizer panel


---
2016-03-21 debris believed to have come from an engine cowling (see image to the right) shows the insignia of the engine manufacturer (Rolls Royce). This piece was found by Neels Kruger at Mossel Bay, about 350 kilometers east of Cape Town, South Africa. 


© AP Photo | Neels Kruger  Weimeng | AirTeamimages + AvHerald
---
OCCURENCE DATASET
Date: 2014-03-08 Time: 01:19
Location: Southern Indian Ocean
Country: Malaysia
Flight phase: ENR – Cruise, Descent, Holding
Damage to a/c: hull loss, missing
Flight
Flight no.: MH 370
From: WMKK/KUL: Kuala Lumpur International Airport  To: ZBAA/PEK: Beijing
Type: Passenger
Operator: Malaysia Airlines
Leased from: Unknown
The aircraft departed Kuala Lumpur at 00:41 local time and was flying en-route on airway R208 towards waypoint IGARI at 35.000 feet when radar contact was lost at 01:22L. At this time the aircraft was about 90 nautical miles off coast Kota Bharu and in the area where air traffic control (ATC) is instructing pilots to change frequency from Subang Center (Malaysia) to Ho Chi Minh Center (Vietnam).
Flight MH 370 never made contact with the vietnamese control center. A multinational search and rescue operation at sea and in the air is ongoing. The aircraft did now show up on any available airports and was declared missing.
On board were 227 passengers from 14 different nations among them two infants. 154 of them were chinese/taiwan residents.
Local weather condition at the time were clear without any reports of turbulence, or adverse meteorological conditions along the planned flight route.
No emergency locator signals or any distress calls have been received from the aircraft by ground stations.
According to marine information services, the depth of the ocean in the area is between 120 and 35 meters.(see nautical chart below)
Malaysia Air Force sources told the press that – after assessing primary radar tapes – they cannot rule out the possibility that MAS Flight 370 made a u-turn over water in an attempt to return to Kuala Lumpur. Search operations were expanded to the off coastal areas west of Malaysia to the strait of Malacca. No trace of the aircraft was found.
Officials still believe the 777 has crashed with no survivors.
Malaysia Airlines chaced their flight number designations on the Kuala- Lumpur – Beijing route. The flight numbers were now MH 318 and MH 319.
US investigators were quoted saying that engine telemetry data from the accident flight for as long as four hours after its disappearance from radar. The Boeing 777-200 in question was equipped with two Rolly Royce Trent 800 engines transmitting a number of engine parameters in real-time to the manufacturer.
Local weather condition at the time were clear without any reports of turbulence, or adverse meteorological conditions along the planned flight route.
Immarsat satellite company reported they received a number of scheduled "handshakes" raw telemetry data believed to have come from MH 370 that fateful night. Based on their information, it was estimated the Boeing 777 flew to the Southern Indian Ocean. According to experts the aircraft likely to have gone down in the ocean after fuel was exhausted, most probably about 2000 km west of Perth, Australia.
Despite a multination search operation by sea and air in that area, nothing was ever found.
One year after the disappearance of MH 370 the position of the aircraft and its 239 occupants remains a mystery.
---
UPDATE
2016-03-02 debris found today on a beach in the East-African country of Mozambique. 

The Malaysia Ministry of Transport stated: "Based on early reports, high possibility debris found in Mozambique belongs to a B777. It is yet to be confirmed & verified. The Directorate of Civil Aviation Malaysia is working with Australian counterparts to retrieve the debris. I urged everyone to avoid undue speculation as we are not able to conclude that the debris belongs to MH-370 at this time."
---
UPDATE since 2015-07-29 
508 days after the disappearance of flight MH 370, a large aircraft part was found on the northeastern shores of La Réunion Island.
The part was identified to be of a Boeing 777 origin. Most likely one flaperon on the trailing edge of a wing (see red square area in photo). A part number has been identified as "657 BB", positively identified belonging to a Boeing 777.
2015-09-03 Franch prosecutor Francois Molins confirmed in a media statement the flaperon found on Réunion Island comes in fact from the missing flight MH 370. Investigators identified the serial number of a part inside the flaperon that matches exactly with the malaysian Boeing 777.
© JACDEC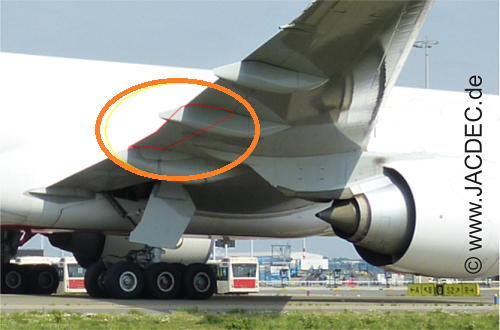 On August 5th 2015, the Malaysia Premier Minister confirms that part does in fact belong to the missing flight MH 370.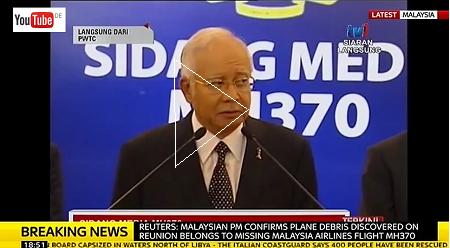 Map (provided by JACDEC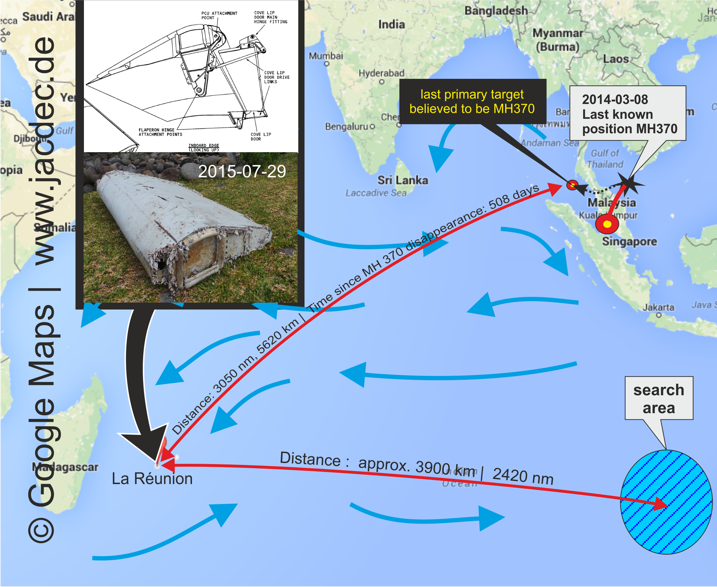 Map (provided by JACDEC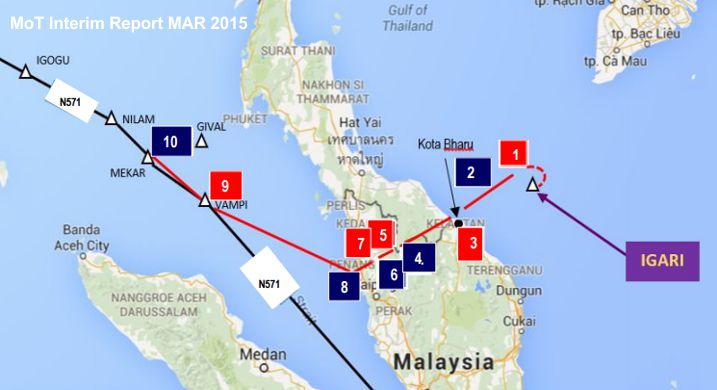 Map (provided by JACDEC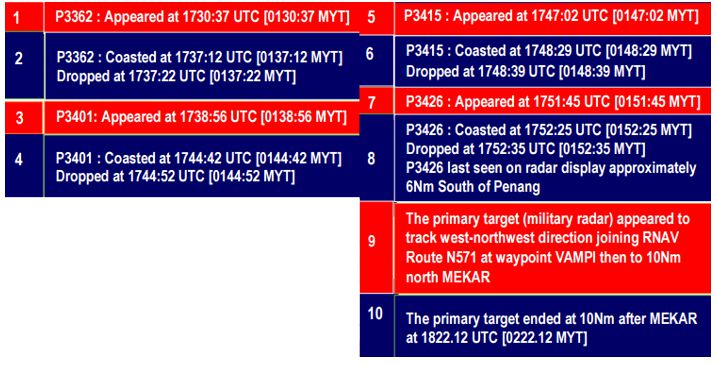 Map (provided by JACDEC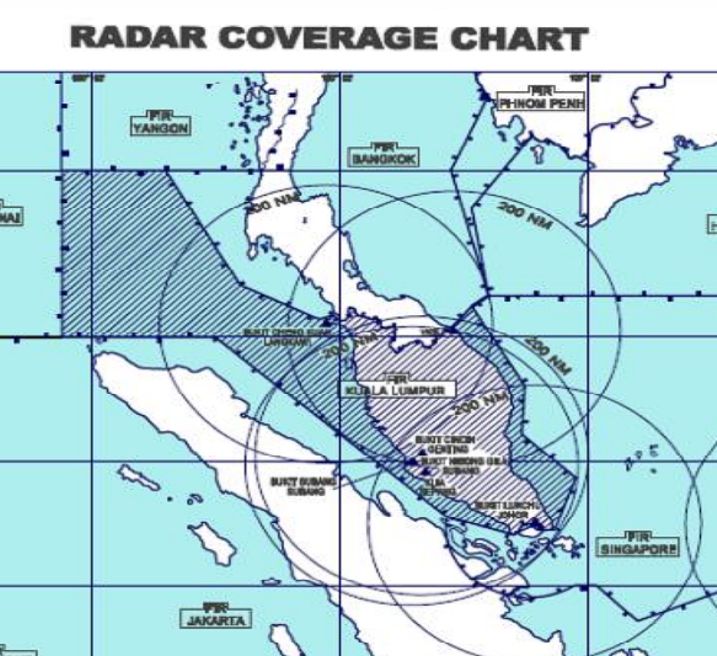 Map (provided by JACDEC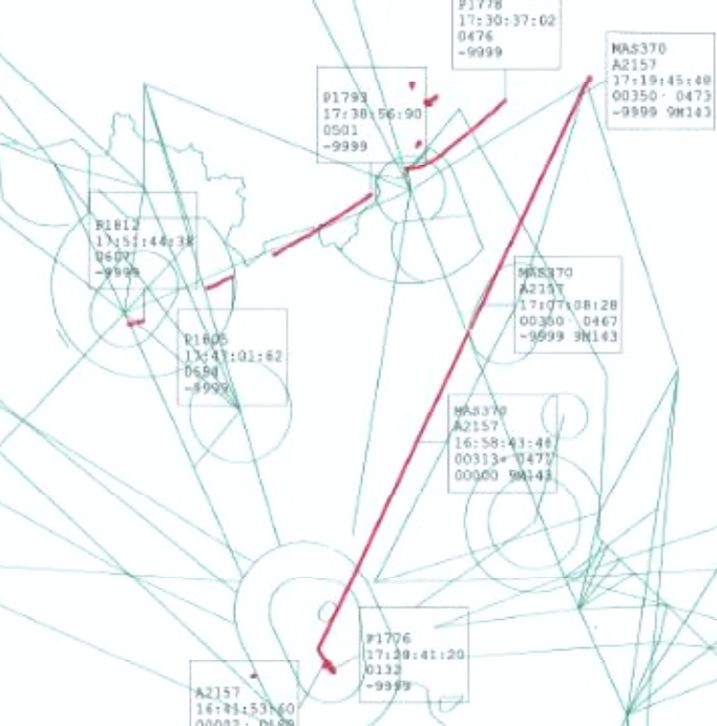 Map (provided by JACDEC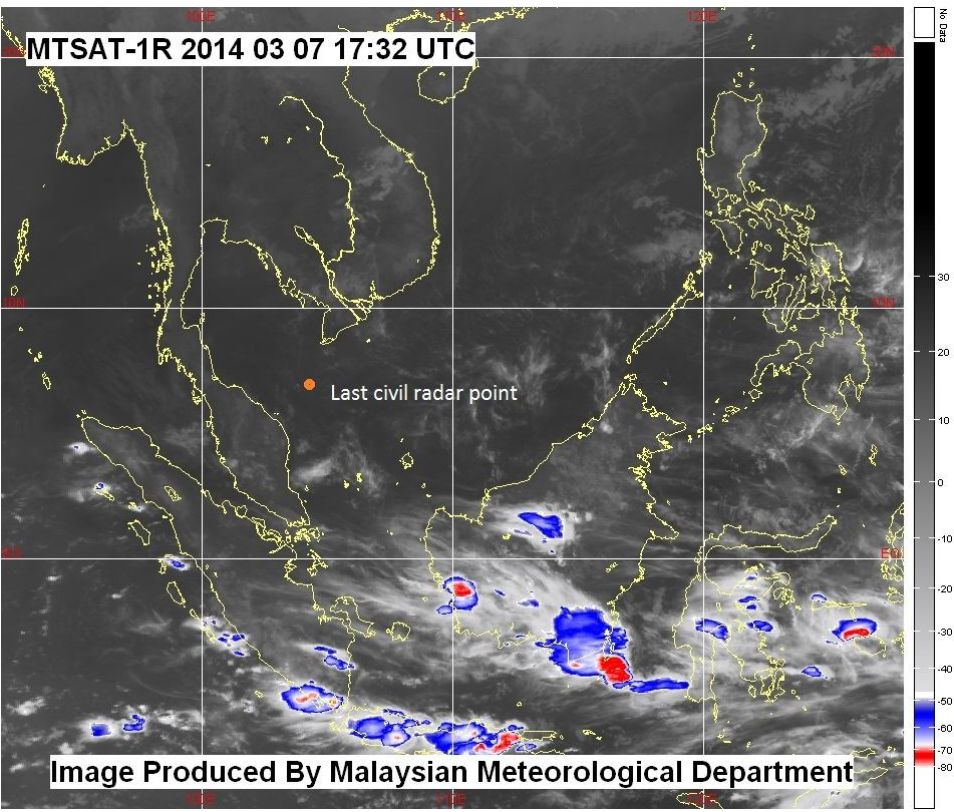 Map (provided by JACDEC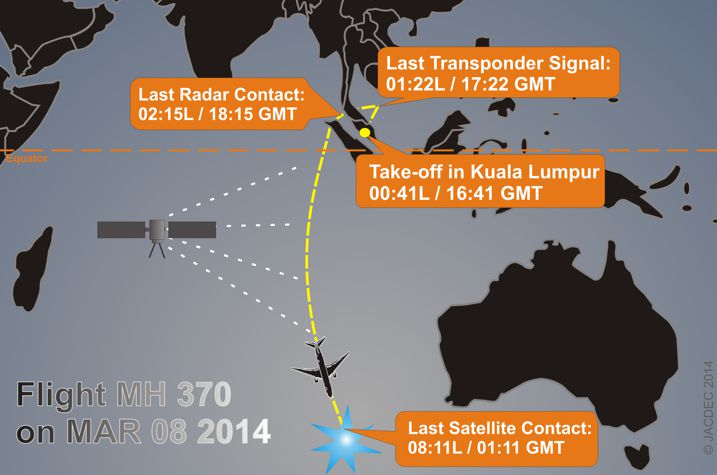 Map (provided by Skyvector.com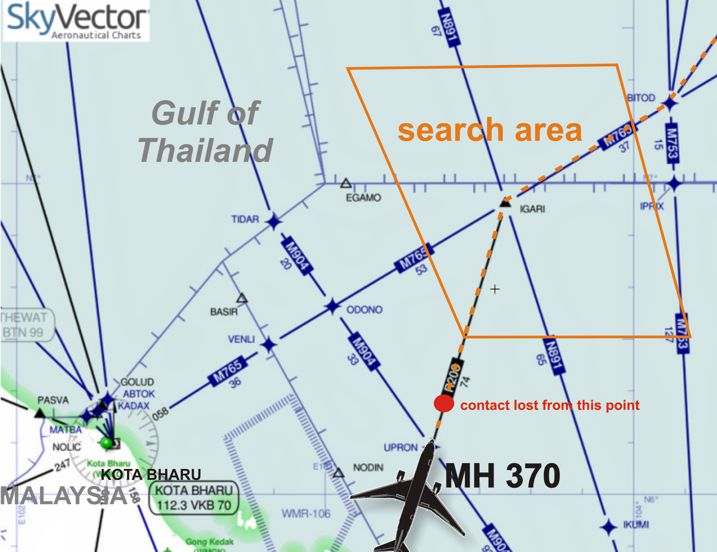 Tweet

Aircraft
Type: Boeing 777-200
Registration: 9M-MRO
Age a/c: 11,8 years
Constr. No.: 28420
| | | | | |
| --- | --- | --- | --- | --- |
| | Crew | Pax | Other | Total |
| Occupants | 12 | 227 | 0 | 239 |
| Fatalities | 12 | 227 | 0 | 239 |
| Injuries | 0 | 0 | 0 | 0 |
JACDEC 20-year Statistics :
27th (and worst) occurence for the operator
4th (and worst) hull loss of a Boeing 777
27th safety occurence at Malaysia
2nd safety occurence for aircraft in question
Safety Report Malaysia Airlines
Image & Information Sources
 INTERIM REPORT 2015-03-08
AP = Airport / AL = Airlines / Avn = Aviation / AW = Airways / C/N: Construction Number / DSP = Domestic Scheduled Passenger / DNP = Domestic Non-Scheduled Passenger / DSC = Domestic Scheduled Cargo / DNC= Domestic Non-Scheduled Cargo / GND = On the ground / parked, stored / FMN= Flying Mission, Air Work / FRY = Ferry-, Positioning Flight / IMC = Intrument Meteorological (flying) Conditions / ISP = International Scheduled Passenger / ISC=International Scheduled Cargo / INP = International Non-Scheduled Passenger / INC =International Non-Scheduled Cargo/ OPS = Flight Operation(s) / NRV = Non-revenue, Private Flight / TRN =Training Flight /  TST = Test & Certification Flight / VMC = Visual Meteorological (flying) Conditions