2015-07-24 Air Bagan ATR-72 damaged in landing overrun at Yangon
The ATR-72 veered of the side of the runway coming to rest on soft ground.
On landing in avderse weather conditios with torrantial rain and gusts, the pilots were unable to keep on track after toucvdown runway 21. The ATR-72 drifted to the left until it departed paved surface, crossed taxiway "Delta" and came to a stop with all gear dug into the ground about 1,1 Km meters from the runway threshold.
All but one passengers remained unhurt in the event. Initital footage showed damage to the nose and left maingear. There were speculatiosn the ATR may have suffered a collapse of its left maingear on landing due to an abnormal runway contact.
The airport was forced to close operations for more than 4 hours until the ATR was removed by heavy equipment.
Metars:
VYYY 241130Z 32002KT 6000 BKN012 FEW015CB OVC090 26/25 Q1009 CB S
VYYY 241100Z 25008KT 6000 BKN012 FEW015CB OVC090 28/25 Q1009 CB S
---
OCCURENCE DATASET
Date: 2015-07-24 Time: 17:30
Location: VYYY RGN Yangon
Country: Myanmar
Flight phase: LDG – Flare, Landing Roll, Aborted Landing after Touchdown
Damage to a/c: substantial
Flight
Flight no.: W9 424
From: VYMD/MDL: Mandalay To: VYYY/RGN: Yangon
Type: Passenger
Operator: Air Bagan
Aircraft
Type: ATR-72
Registration: XY-AIH
Age a/c: 19,7 years
Constr. No.: 469
Tweet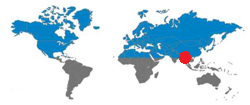 | | | | | |
| --- | --- | --- | --- | --- |
| | Crew | Pax | Other | Total |
| Occupants |  5 |  49 | 0 | 54 |
| Fatalities | 0 | 0 | 0 | 0 |
| Injuries | 0 | 1 | 0 | 1 |
JACDEC 20-year Statistics :
3rd safety occurence for the operator
126th safety occurence of type (ATR-72)
11th safety occurence at airport
1st safety occurence for aircraft in question
Image & Information Sources
AP = Airport / AL = Airlines / Avn = Aviation / AW = Airways / C/N: Construction Number / DSP = Domestic Scheduled Passenger / DNP = Domestic Non-Scheduled Passenger / DSC = Domestic Scheduled Cargo / DNC= Domestic Non-Scheduled Cargo / GND = On the ground / parked, stored / FMN= Flying Mission, Air Work / FRY = Ferry-, Positioning Flight / IMC = Intrument Meteorological (flying) Conditions / ISP = International Scheduled Passenger / ISC=International Scheduled Cargo / INP = International Non-Scheduled Passenger / INC =International Non-Scheduled Cargo/ OPS = Flight Operation(s) / NRV = Non-revenue, Private Flight / TRN =Training Flight /  TST = Test & Certification Flight / VMC = Visual Meteorological (flying) Conditions