2015-07-17 Hellenic Air Force CL-215 waterbomber forced landing Laconia, Greece
All crew were able to walk away from a forced landing accident during a fire fighting run in Laconia, Greece.
The Canadair CL-215 was on a fire fighting mission east of Neapoli, when the pilots encountered an unspecified technical problem. A landing on an airport or on water became unsuitable and the pilots elected to carry out a forced landing on upsloaping terrain near the village of Faraklo.
On landing the CL-215 ´s hull and wings remained intact allowing the crew to survive. It is said by the greek military that all on board were in 'good health'.
---
OCCURENCE DATASET
Date: 2015-07-17 Time: 13:05
Location: Faraklo area, Laconia
Country: Greece
Google Maps: [Google Maps]
Flight phase: MNV – Aerobatics, Intentional Low Flying
Damage to a/c: hull loss
Flight
Flight no.:
From: 0000/: NONE To: 0000/: NONE
Type: Non Revenue
Operator: Hellenic Air Force
Leased from: Unknown
Aircraft
Type: Canadair CL-215
Registration: 1070
Age a/c: – years
Constr. No.:
Tweet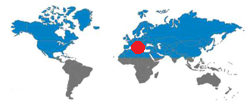 | | | | | |
| --- | --- | --- | --- | --- |
| | Crew | Pax | Other | Total |
| Occupants |  3 | 0 | 0 | 3 |
| Fatalities | 0 | 0 | 0 | 0 |
| Injuries | 0 | 0 | 0 | 0 |
JACDEC 20-year Statistics :
4th safety occurence an Hellenic AF CL-215
7th safety occurence of type (CL-215)
45th safety occurence in Greece
2nd safety occurence for aircraft in question
Image & Information Sources
AP = Airport / AL = Airlines / Avn = Aviation / AW = Airways / C/N: Construction Number / DSP = Domestic Scheduled Passenger / DNP = Domestic Non-Scheduled Passenger / DSC = Domestic Scheduled Cargo / DNC= Domestic Non-Scheduled Cargo / GND = On the ground / parked, stored / FMN= Flying Mission, Air Work / FRY = Ferry-, Positioning Flight / IMC = Intrument Meteorological (flying) Conditions / ISP = International Scheduled Passenger / ISC=International Scheduled Cargo / INP = International Non-Scheduled Passenger / INC =International Non-Scheduled Cargo/ OPS = Flight Operation(s) / NRV = Non-revenue, Private Flight / TRN =Training Flight /  TST = Test & Certification Flight / VMC = Visual Meteorological (flying) Conditions