2015-07-06 Emirates Boeing 777-200 collides with Hak Air 737 at Lagos
The 777 was taxiing for departure to runway 18L(eft) along the eastern parallel taxiway facing north, the its right outer wing sliced through the tailfin of a Hak Air Boeing 737 resulting in substantial damage.
It appears the 737 was parked outside its marked parking area, narrowing space for larger jets taxiing behind. The pilots of the Boeing 777 already departed the taxi centreline to the left in an alledged attempt to avoid conflict with the parked aircraft on the right side.
Nobody was injured in the event.
The flight was subsequently cancelled.
The identity of the 737 is unknown at present.
Nigerian press reported that according to the latest NOTAM the eastern taxiway was closed for larger jets.
---
OCCURENCE DATASET
Date: 2015-07-06 Time: 21:30
Location: DNMM LOS Lagos Murtala Muhammed
Country: Nigeria
Flight phase: TXI – Taxi, Power Back
Damage to a/c: substantial
Flight
Flight no.: EK 782
From: DNMM/LOS: Lagos Murtala Muhammed To: OMDB/DXB: Dubai
Type: Passenger
Operator: Emirates
Aircraft1
Type: Boeing 777-200
Registration: A6-EWD
Age a/c: 6,9 years
Constr. No.: 35577
Aircraft2
Type: Boeing 737-400
Registration: 5N-BOU
Age a/c: 21,8 years
Constr. No.: 25715
Tweet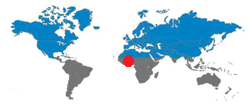 | | | | | |
| --- | --- | --- | --- | --- |
| | Crew | Pax | Other | Total |
| Occupants | | | 300+ | |
| Fatalities | 0 | 0 | 0 | 0 |
| Injuries | 0 | 0 | 0 | 0 |
JACDEC 20-year Statistics :
36th safety occurence for the operator
84th safety occurence of type (B777-200)
30th safety occurence at airport
1st safety occurence for aircraft in question
Image & Information Sources
AP = Airport / AL = Airlines / Avn = Aviation / AW = Airways / C/N: Construction Number / DSP = Domestic Scheduled Passenger / DNP = Domestic Non-Scheduled Passenger / DSC = Domestic Scheduled Cargo / DNC= Domestic Non-Scheduled Cargo / GND = On the ground / parked, stored / FMN= Flying Mission, Air Work / FRY = Ferry-, Positioning Flight / IMC = Intrument Meteorological (flying) Conditions / ISP = International Scheduled Passenger / ISC=International Scheduled Cargo / INP = International Non-Scheduled Passenger / INC =International Non-Scheduled Cargo/ OPS = Flight Operation(s) / NRV = Non-revenue, Private Flight / TRN =Training Flight /  TST = Test & Certification Flight / VMC = Visual Meteorological (flying) Conditions