2015-05-10 Joy Air Xian MA-60 destroyed in hard landing at Fuzhou, China
The aircraft was damaged beyond repair in a hard landing at Fuzhou, following a wrong engine power setting while on final approach.
The Xian MA-60 "Mega Ark", was on final approach to runway 03 at Fuzhou Airport, when the rate-of-descent suddenly increased.
Flight JR 1529 touched down extremely hard before the touchdown zone markings resulting in a structural failure of its entire wing section which broke free of the rest of the fuselage.
After touchdown, the aircraft veered to the right departing paved surface. It came to a stop on soft ground approximately 25 m beneath the runway hard shoulder.
It is understood that seven people (5 passengers and 2 crew) suffered injuries either during the landing or during the evacuation process.
Although the maingear withstood the impact forces, the fuselage broke immediately aft of the wing making the aircraft a total loss.
Chinas investiating body, the Chinese Civil Aviation authority CAAC reported that according to preliminary investigations, there was no technical fault with the aircraft until touchdown.
The aircraft had entered service in 2013 and had since accumulated 3149 flight hours in 2586 flight cycles.
Further flight data recorder (FDR) examination revealed that the approach was flown normally until 38 feet above the ground when the pilots throttled back the engine thrust levers below flight idle. They also have disengaged the lock to prevent such thrust settings while in flight.
This caused a massive loss of lift and the rate-of-descent increased substantially. The pilots were unable to arrest the descent until gound impact.
According to FDR data the aircraft made touchdown at a approximately 1500 feet per minute which is equivalent to 6G.
Five days after the accident, the CAAC reported that the pilot-in-command ignored the critical thrust condition below flight idle until it was too late for recovery action.
It was further established a violation of basic operational standards. Departure of standard operational practices were quite common at Joy Air, the CAAC noted.
---
OCCURENCE DATASET
Date: 2015-05-10 Time: 11:57
Location: ZSFZ FOC Fuzhou
Country: China
Flight phase: LDG – Flare, Landing Roll, Aborted Landing after Touchdown
Damage to a/c: hull loss
Flight
Flight no.: JR 1529
From: ZSYW/YIW: Yiwu To: ZSFZ/FOC: Fuzhou
Type: Passenger
Operator: Joy Air
Aircraft
Type: Xian / AVIC MA-60
Registration: B-3476
Age a/c: 3,8 years
Constr. No.: 805
Tweet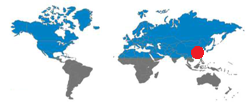 | | | | | |
| --- | --- | --- | --- | --- |
| | Crew | Pax | Other | Total |
| Occupants | 7 | 45 | 0 | 52 |
| Fatalities | 0 | 0 | 0 | 0 |
| Injuries |  2 |  5 | 0 | 7 |
JACDEC 20-year Statistics :
2nd safety occurence for the operator
21st safety occurence of type (Xian MA-60)
3rd safety occurence at airport
1st safety occurence for aircraft in question
Image & Information Sources
AP = Airport / AL = Airlines / Avn = Aviation / AW = Airways / C/N: Construction Number / DSP = Domestic Scheduled Passenger / DNP = Domestic Non-Scheduled Passenger / DSC = Domestic Scheduled Cargo / DNC= Domestic Non-Scheduled Cargo / GND = On the ground / parked, stored / FMN= Flying Mission, Air Work / FRY = Ferry-, Positioning Flight / IMC = Intrument Meteorological (flying) Conditions / ISP = International Scheduled Passenger / ISC=International Scheduled Cargo / INP = International Non-Scheduled Passenger / INC =International Non-Scheduled Cargo/ OPS = Flight Operation(s) / NRV = Non-revenue, Private Flight / TRN =Training Flight /  TST = Test & Certification Flight / VMC = Visual Meteorological (flying) Conditions