2015-05-02 Air France Boeing 777-200 "Pull-up" warning near Mount Cameroon
French BEA reported, the aircraft was flying from Malabo to Douala (distance: 62 NM) flying en-route at 9000 ft (FL 90) when the pilots elected to deviate further north in order to avoid thunderstorm activity along their planned route.
Whilst flying in darkness and IMC conditions (in clouds) the automated enhanced ground proximity warning system (EGPWS) was activated indicating rising terrain ahead.
"Pull up"-warnings were heared on the flightdeck, forcing the pilots to climb immediately to 13000 ft. Then the alarm stopped.
The pilots continued to Douala airport for a safe landing at 20:35L (44 min after take-off). No one on board was hurt.
BEA is investigating this serious incident.
In a media statement, Air France said that on May 2nd 2015 flight AF 953 carried out a maneuvre " in line with the company's and manufacturer's procedure manual in response to an alarm generated by the aircraft." The airline continues: "Pending the results of the internal investigation, several precautionary measures have been implemented by the company:
– Additional information transmitted to the crew on the specifics of the land around Douala
– The crew of this flight receives pedagogical, managerial and medical support."
OCCURENCE DATASET
Date: 2015-05-02 Time: 21:14
Location: Mount Cameroon area
Country: Cameroon
Google Maps: (GOOGLE EARTH)
Flight phase: ENR3 – Descent IFR Descent from cruise to Initial Approach Fix (IAF) or VFR pattern entry.
Damage to a/c: none
Flight
Flight no.: AF 953
From: FGSL/SSG: Malabo To: FKKD/DLA: Douala
Type: Non Revenue
Operator: Air France
Aircraft
Type: Boeing 777-200
Registration: F-GSPG
Age a/c: 16,2 years
Constr. No.: 27609
Estimated Flight Path of Air France Boeing 777 F-GSPG on May 2nd 2015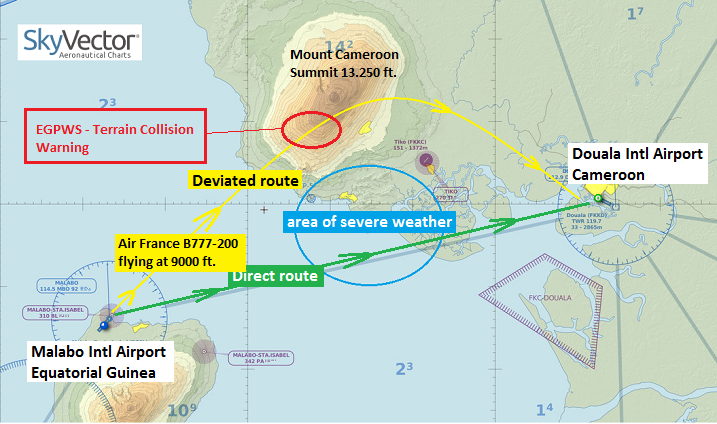 JACDEC Safety Analysis
---
10 year accident & incident history of Air France (only revenue passenger flights)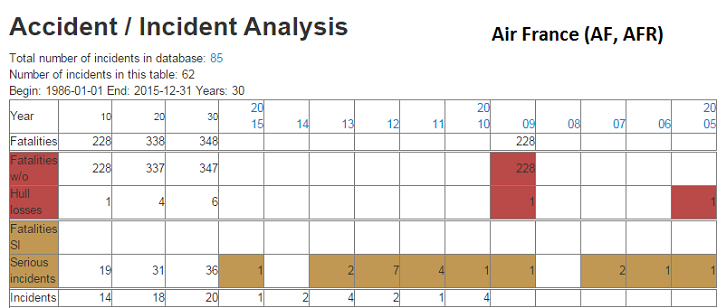 List of recent serious incidents occured on Air France flights
| | | | | | |
| --- | --- | --- | --- | --- | --- |
| DATE | Country | Location | Type | Reg. | Remarks |
| | | | | | |
| 2015-05-02 | Cameroon | west of Douala | Boeing 777-200 | F-GSPG | EGPWS activation en-route |
| 2013-08-02 | France | Bordeaux | Airbus A320 | F-HBNI | near stall after windshield crack on approach |
| 2013-03-11 | France | Marseille | Airbus A320 | F-HBNE | near stall on visual approach |
| 2012-10-16 | Bulgaria | Sofia | Airbus A319 | F-GRHU | initiated take-off from taxiway "H" instead of runway 09 |
| 2012-09-07 | Czech Republic | Prague airspace | Airbus A319 | – | seperation conflict with Boeing 737 during descent |
| 2012-05-27 | Spain | Barcelona | Airbus A320 | F-GJVG | runway incursion when tower cleared acft to cross active runway |
| 2012-04-09 | France | Bastia airspace | Airbus A321 | F-GTAX | TCAS collision alert during descent |
| | | | | | |
Tweet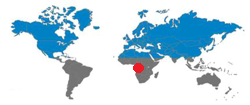 | | | | | |
| --- | --- | --- | --- | --- |
| | Crew | Pax | Other | Total |
| Occupants | | | | 37 |
| Fatalities | 0 | 0 | 0 | 0 |
| Injuries | 0 | 0 | 0 | 0 |
JACDEC 20-year Statistics :
37th serious incident  for the operator
2 of them occured on B777s
5th safety occurence in the area (Douala)
1st safety occurence for aircraft in question
AP = Airport / AL = Airlines / Avn = Aviation / AW = Airways / C/N: Construction Number / DSP = Domestic Scheduled Passenger / DNP = Domestic Non-Scheduled Passenger / DSC = Domestic Scheduled Cargo / DNC= Domestic Non-Scheduled Cargo / GND = On the ground / parked, stored / FMN= Flying Mission, Air Work / FRY = Ferry-, Positioning Flight / IMC = Intrument Meteorological (flying) Conditions / ISP = International Scheduled Passenger / ISC=International Scheduled Cargo / INP = International Non-Scheduled Passenger / INC =International Non-Scheduled Cargo/ OPS = Flight Operation(s) / NRV = Non-revenue, Private Flight / TRN =Training Flight /  TST = Test & Certification Flight / VMC = Visual Meteorological (flying) Conditions