2015-04-13 Carson Air Metroliner C-GSKC crashed after steep descent in British Columbia, Canada
The cargo crashed in wooded terrain north of Vancounver with two pilots on board.
The propeller driven aircraft departed Vancouver International Airport, at 06:43 L on a routine cargo flight to Prince George Airport.
The Kamloops Flight Information Centre said, they lost radar contact at 7:09 shortly after the aircraft has initiated a rapid, uncontrolled descend. There was no distress call.
Both pilots were fatally injured.
At the time, the weather consisted of rainfall, and intense snowfall in higher regions. There also have been pilot reports of turbulences in the area.
According to flightradar images, the Metroliner was flying northbound at 7900 feet heading 010 degrees when it was last seen on ADSB radar receivers. It was about 16 miles north of Vancouver airport and 3 miles west of Mt Seymour Provincial Park.
According to the Joint Rescue Coordination Centre (JRCC) the wreckage was found on wooden mountainside in North Shore Mountains, east of Crown Mountain, about 5 KM north of North Vancouver. The impact elevation was at about 3000 feet.
The aircraft was not required to be equipped with a cockpit voice recorder or even a flight data recorder.
Canadian investigators from the Transport Safety Board repoarted the aircraft dropped from an altitude of 2,400 metres to about 900 metres — the height at which the wreckage was found — in less than 20 seconds.
The TSB believed the rapid rate of descent was consistent with an inflight break-up.
---
OCCURENCE DATASET
Date: 2015-04-13 Time: 07:10
Location: east of Crown Mountain, British Columbia area
Country: Canada
Flight phase: ENR – Cruise, Descent, Holding
Damage to a/c: hull loss
Flight
Flight no.: 66
From: CYVR/YVR: Vancouver To: CYXS/YXS: Prince George
Type: Cargo
Operator: Carson Air
Aircraft
Type: Swearingen Metroliner II
Registration: C-GSKC
Age a/c: 37.8054 years
Constr. No.: TC-235
Tweet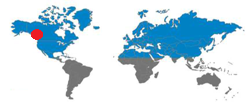 | | | | | |
| --- | --- | --- | --- | --- |
| | Crew | Pax | Other | Total |
| Occupants | 2 | 0 | 0 | 2 |
| Fatalities | 2 | 0 | 0 | 2 |
| Injuries | 0 | 0 | 0 | 0 |
JACDEC 20-year Statistics :
2nd safety occurence for the operator
128th safety occurence of type (Metroliner)
286th safety occurence in Canada
XX safety occurence for aircraft in question
Follow the investigation process:

Carson Air
Image & Information Sources
AP = Airport / AL = Airlines / Avn = Aviation / AW = Airways / C/N: Construction Number / DSP = Domestic Scheduled Passenger / DNP = Domestic Non-Scheduled Passenger / DSC = Domestic Scheduled Cargo / DNC= Domestic Non-Scheduled Cargo / GND = On the ground / parked, stored / FMN= Flying Mission, Air Work / FRY = Ferry-, Positioning Flight / IMC = Intrument Meteorological (flying) Conditions / ISP = International Scheduled Passenger / ISC=International Scheduled Cargo / INP = International Non-Scheduled Passenger / INC =International Non-Scheduled Cargo/ OPS = Flight Operation(s) / NRV = Non-revenue, Private Flight / TRN =Training Flight /  TST = Test & Certification Flight / VMC = Visual Meteorological (flying) Conditions