2015-03-08 Spicejet DHC-8-400 overshot runway at Hubli, India
The Dash 8 ran off the runway where its left maingear collapsed before it came to a stop on soft ground. There were no injuries among the 78 persons on board.
The aircraft received substantial damage when it ran off the left side of the runway following a hard landing at Hubli Airport. Its left maingear gave way allowing the left wing ans propeller to strike the ground.
All passengers and crew  safely evacuated.
At the time of the landing weather consisted of heavy rain with local thunderstorm activity.
Local media reported the pilots abandoned an earlier approach due to the adverse weather conditions and entered a holding pattern for about 20 minutes to wait for improvement.
Hubli runway is 1670 meters in lengh but does not feature an instrument landing approach (ILS). Recently, the runway at Hubli was widened from 30 to 45 metres.
The DGAC has opened an investigation.
NOTE: SpiceJet inaugurated the route from Bangalore to Hubli only 1 week earlier in March 1st.
---
OCCURENCE DATASET
Date: 2015-03-08 Time: 19:20
Location: VAHB HBX Hubli
Country: India
Flight phase: LDG – Flare, Landing Roll, Aborted Landing after Touchdown
Damage to a/c: substantial
Flight
Flight no.: SG 1085
From: VOBG/BLR: Bangalore To: VAHB/HBX: Hubli
Type: Passenger
Operator: SpiceJet
Leased from: Unknown
Aircraft
Type: Bombardier DHC-8-400
Registration: VT-SUA
Age a/c: 3,6 years
Constr. No.: 4373
Tweet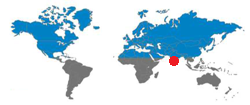 | | | | | |
| --- | --- | --- | --- | --- |
| | Crew | Pax | Other | Total |
| Occupants | 4 | 74 | 0 | 78 |
| Fatalities | 0 | 0 | 0 | 0 |
| Injuries | 0 | 0 | 0 | 0 |
JACDEC 20-year Statistics :
9th safety occurence for the operator
55th safety occurence of type (DHc-8-400)
1st safety occurence at airport
1st safety occurence for aircraft in question
SpiceJet
Image & Information Sources
AP = Airport / AL = Airlines / Avn = Aviation / AW = Airways / C/N: Construction Number / DSP = Domestic Scheduled Passenger / DNP = Domestic Non-Scheduled Passenger / DSC = Domestic Scheduled Cargo / DNC= Domestic Non-Scheduled Cargo / GND = On the ground / parked, stored / FMN= Flying Mission, Air Work / FRY = Ferry-, Positioning Flight / IMC = Intrument Meteorological (flying) Conditions / ISP = International Scheduled Passenger / ISC=International Scheduled Cargo / INP = International Non-Scheduled Passenger / INC =International Non-Scheduled Cargo/ OPS = Flight Operation(s) / NRV = Non-revenue, Private Flight / TRN =Training Flight /  TST = Test & Certification Flight / VMC = Visual Meteorological (flying) Conditions