2015-03-05 Icar Air Let 410 landing incident at Ancona, Italy
On landing runway 04 in stormy conditions, the LET made first runway contact with its nosegear resulting in a gear collapse and the loss of directional control.
The aircraft came to a halt on the runway and all three crewmembers (two pilots and one technician) remained unhurt.
The aircraft was operating on behalf of DHL Cargo.
Airport operations were halted after the event until 23:30.
---
OCCURENCE DATASET
Date: 2015-03-05 Time: 19:30
Location: LIPY AOI Ancona Falconara
Country: Italy
Flight phase: LDG – Flare, Landing Roll, Aborted Landing after Touchdown
Damage to a/c: substantial
Flight
Flight no.: RAC 9002
From: LQSA/SJJ: Sarajevo To: LIPY/AOI: Ancona Falconara
Type: Cargo
Operator: Icar Air
Aircraft
Type: Let 410 Turbolet
Registration: E7-WDT
Age a/c: 23.6083 years
Constr. No.: 912615
Tweet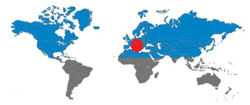 | | | | | |
| --- | --- | --- | --- | --- |
| | Crew | Pax | Other | Total |
| Occupants | 3 | 0 | 0 | 3 |
| Fatalities | 0 | 0 | 0 | 0 |
| Injuries | 0 | 0 | 0 | 0 |
JACDEC 20-year Statistics :
1st safety occurence for the operator
96th safety occurence of type (LET410)
3rd safety occurence at airport
2nd safety occurence for aircraft in question
(2006-08-31, the LET caused a runway incursion at Rome Ciampino)
Icar Air
Image & Information Sources
AP = Airport / AL = Airlines / Avn = Aviation / AW = Airways / C/N: Construction Number / DSP = Domestic Scheduled Passenger / DNP = Domestic Non-Scheduled Passenger / DSC = Domestic Scheduled Cargo / DNC= Domestic Non-Scheduled Cargo / GND = On the ground / parked, stored / FMN= Flying Mission, Air Work / FRY = Ferry-, Positioning Flight / IMC = Intrument Meteorological (flying) Conditions / ISP = International Scheduled Passenger / ISC=International Scheduled Cargo / INP = International Non-Scheduled Passenger / INC =International Non-Scheduled Cargo/ OPS = Flight Operation(s) / NRV = Non-revenue, Private Flight / TRN =Training Flight /  TST = Test & Certification Flight / VMC = Visual Meteorological (flying) Conditions