2015-02-11 Venezuelan Beech 1900 crashed west of Tamiami Airport, FL, USA
The aircraft lost height and crashed shortly after take-off from runway 27Left at Tamiami Executive Airport, FL, USA leaving all four on board dead.
Early reports indicate the pilots radioed engine problems to the tower and radioed their intention to return to Tamiami Airport before contact was lost.
The Beech 1900 came down in a residential area at SW 144th Avenue and Krome Avenue but fortunately no one on the ground was harmed.
At the time of the crash, local wather was VFR, clear skies, calm winds and above 10 miles visibility.
OCCURENCE DATASET
Date: 2015-02-11 Time: 14:45
Location: 2,5 NM west of, KTMB TMB Kendall Tamiami Executive
Country: USA
Flight phase: ICL – Airborne – 1.000 ft AGL
Damage to a/c: hull loss
Flight
Flight no.:
From: KTMB/TMB: Kendall Tamiami Executive To: MBPV/PLS: Providenciales
Type: Non Revenue
Operator: Servicio Panamericano de Proteccion
Aircraft
Type: Beech 1900
Registration: YV1674
Age a/c: 26,8 years
Constr. No.: UC-47
Tweet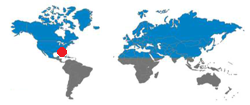 | | | | | |
| --- | --- | --- | --- | --- |
| | Crew | Pax | Other | Total |
| Occupants | 2 | 2 | 0 | 4 |
| Fatalities | 2 | 2 | 0 | 4 |
| Injuries | 0 | 0 | 0 | 0 |
JACDEC 20-year Statistics :
1st safety occurence for the operator
84th safety occurence of type (B1900)
1st safety occurence at airport
1st safety occurence for aircraft in question
Serv. Panamericano de Proteccion
Image & Information Sources
AP = Airport / AL = Airlines / Avn = Aviation / AW = Airways / C/N: Construction Number / DSP = Domestic Scheduled Passenger / DNP = Domestic Non-Scheduled Passenger / DSC = Domestic Scheduled Cargo / DNC= Domestic Non-Scheduled Cargo / GND = On the ground / parked, stored / FMN= Flying Mission, Air Work / FRY = Ferry-, Positioning Flight / IMC = Intrument Meteorological (flying) Conditions / ISP = International Scheduled Passenger / ISC=International Scheduled Cargo / INP = International Non-Scheduled Passenger / INC =International Non-Scheduled Cargo/ OPS = Flight Operation(s) / NRV = Non-revenue, Private Flight / TRN =Training Flight /  TST = Test & Certification Flight / VMC = Visual Meteorological (flying) Conditions