2015-02-02 Sky Express Greece Jetstream 41 runway excursion at Rhodos
The aircraft was damaged after a hard landing in gusty winds.
After a hard touchdown on runway 07 the left maingear collapsed causing the left wing and propeller to strike the runway. The aircraft began to veer to the left until the pilots maaged to stop on the hard left runway shoulder half a meter from soft ground.
All passengers and crewmembers on board remained unhurt in the event. Damage to the aircraft is being considered as significant.
According to eyewittness accounts the aircraft was caught by a strong gust immediately before landing. At the time of the approach, strong winds from the southest with velocities beyond 40 knots prevailed at Diagoras Airport.
Rhodos Diagoras Airport was closed for traffic until 1600L.
Diagoras runway 07 is known to be notorious for windshears when windspeeds are above 15 knots.
OCCURENCE DATASET
Date: 2015-02-02 Time: 07:36
Location: LGRP RHO Rhodos Diagoras
Country: Greece
Flight phase: LDG – Flare, Landing Roll, Aborted Landing after Touchdown
Damage to a/c: substantial
Flight
Flight no.: SEH 100
From: LGIR/HER: Heraklion To: LGRP/RHO: Rhodos Diagoras
Type: Passenger
Operator: Sky Express
Aircraft
Type: BAe Jetstream 41
Registration: SX-DIA
Age a/c: 19,3 years
Constr. No.: 41075
Tweet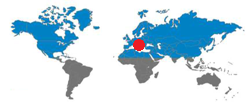 | | | | | |
| --- | --- | --- | --- | --- |
| | Crew | Pax | Other | Total |
| Occupants | | 16 | | 16 |
| Fatalities | 0 | 0 | 0 | 0 |
| Injuries | 0 | 0 | 0 | 0 |
JACDEC 20-year Statistics :
2nd safety occurence for the operator
12th safety occurence of type (J-41)
3rd safety occurence at airport
1st safety occurence for aircraft in question
Sky Express (Greece)
Image & Information Sources
AP = Airport / AL = Airlines / Avn = Aviation / AW = Airways / C/N: Construction Number / DSP = Domestic Scheduled Passenger / DNP = Domestic Non-Scheduled Passenger / DSC = Domestic Scheduled Cargo / DNC= Domestic Non-Scheduled Cargo / GND = On the ground / parked, stored / FMN= Flying Mission, Air Work / FRY = Ferry-, Positioning Flight / IMC = Intrument Meteorological (flying) Conditions / ISP = International Scheduled Passenger / ISC=International Scheduled Cargo / INP = International Non-Scheduled Passenger / INC =International Non-Scheduled Cargo/ OPS = Flight Operation(s) / NRV = Non-revenue, Private Flight / TRN =Training Flight /  TST = Test & Certification Flight / VMC = Visual Meteorological (flying) Conditions