2015-01-19 FlyBe DHC-8-400 ran off taxiway at Inverness, Scotland
After landing runway 23 at temperatures around freezing level, the pilots experienced a loss of directional control when they turned right into taxiway "Golf" on the way to the southern apron.
The Dash 8 began to skid sideways until it ended with all undercarriage on the grass about 2-3 meters beneath paved surface.
None of the passengers or crewmembers were hurt in the event.
The airport was forced to close for larger traffic until the blocked taxiway was opened again around 14:00.
The aircraft in question was not damaged and departed back to Manchester at 14:40L.
Inverness airport weather at the time:
EGPE 191020Z 24007KT CAVOK M03/M05 Q1015
OCCURENCE DATASET
Date: 2015-01-19 Time: 10:10
Location: EGPE INV Inverness
Country: United Kingdom
Flight phase: TXI – Taxi, Power Back
Damage to a/c: none
Flight
Flight no.: BEE 202
From: EGCC/MAN: Manchester To: EGPE/INV: Inverness
Type: Passenger
Operator: Flybe
Aircraft
Type: Bombardier DHC-8-400
Registration: G-JEDM
Age a/c: 11,5 years
Constr. No.: 4077
Tweet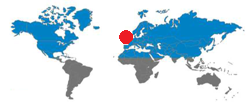 | | | | | |
| --- | --- | --- | --- | --- |
| | Crew | Pax | Other | Total |
| Occupants | 4 | 49 | 0 | 53 |
| Fatalities | 0 | 0 | 0 | 0 |
| Injuries | 0 | 0 | 0 | 0 |
JACDEC 20-year Statistics :
12th safety occurence for the operator
50th safety occurence of type (DHC8-400)
2nd safety occurence at or near the airport
1st safety occurence for aircraft in question
FlyBe
Image & Information Sources
AP = Airport / AL = Airlines / Avn = Aviation / AW = Airways / C/N: Construction Number / DSP = Domestic Scheduled Passenger / DNP = Domestic Non-Scheduled Passenger / DSC = Domestic Scheduled Cargo / DNC= Domestic Non-Scheduled Cargo / GND = On the ground / parked, stored / FMN= Flying Mission, Air Work / FRY = Ferry-, Positioning Flight / IMC = Intrument Meteorological (flying) Conditions / ISP = International Scheduled Passenger / ISC=International Scheduled Cargo / INP = International Non-Scheduled Passenger / INC =International Non-Scheduled Cargo/ OPS = Flight Operation(s) / NRV = Non-revenue, Private Flight / TRN =Training Flight /  TST = Test & Certification Flight / VMC = Visual Meteorological (flying) Conditions