2015-01-10 Ethiopian Cargo Boeing 737-400F destroyed in runway overrun at Accra
On landing runway 03, the aircraft ran off the side of the runway at high speed where the pilots lost control. The fuselage spun around about 180 degrees and the entire undercarriage was lost. The right engine seperated and struck the lower cockpit section where it ripped of the fuselage and radar casing.
All crewmembers were taken to hospital with unknown injuries.
---
OCCURENCE DATASET
Date: 2015-01-10 Time: 11:05:00
Location: DGAA ACC Accra Kotoka Intl
Country: Ghana
Flight phase: LDG – Flare, Landing Roll, Aborted Landing after Touchdown
Damage to a/c: hull loss
Flight
Flight no.: KP 4030
From: DXXX/LFW: Lome Tokoin To: DGAA/ACC: Accra Kotoka Intl
Type: Cargo
Operator: Ethiopian Airlines Cargo
Leased from: ASKY Airlines
Aircraft
Type: Boeing 737-400F
Registration: ET-AQV
Age a/c: 18.2 years
Constr. No.: 28493
Tweet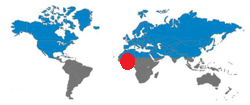 | | | | | |
| --- | --- | --- | --- | --- |
| | Crew | Pax | Other | Total |
| Occupants | 3 | 0 | 0 | 3 |
| Fatalities | 0 | 0 | 0 | 0 |
| Injuries | 3 | 0 | 0 | 3 |
JACDEC 20-year Statistics :
15th safety occurence for the operator
136th safety occurence of type (B737-400)
5th safety occurence at airport
1st safety occurence for aircraft in question
Ethiopian Airlines
Image & Information Sources
AP = Airport / AL = Airlines / Avn = Aviation / AW = Airways / C/N: Construction Number / DSP = Domestic Scheduled Passenger / DNP = Domestic Non-Scheduled Passenger / DSC = Domestic Scheduled Cargo / DNC= Domestic Non-Scheduled Cargo / GND = On the ground / parked, stored / FMN= Flying Mission, Air Work / FRY = Ferry-, Positioning Flight / IMC = Intrument Meteorological (flying) Conditions / ISP = International Scheduled Passenger / ISC=International Scheduled Cargo / INP = International Non-Scheduled Passenger / INC =International Non-Scheduled Cargo/ OPS = Flight Operation(s) / NRV = Non-revenue, Private Flight / TRN =Training Flight /  TST = Test & Certification Flight / VMC = Visual Meteorological (flying) Conditions