2014-12-30 Zest AirAsia Airbus A320 damaged in runway overrun at Kalibo
The A320 overran the end of the runway where its nosegear dug in deep, soft ground before coming to rest. There were no injuries to passengers and crewmembers.
in adverse weather condition (rain and strong winds), the A320 overran the end of runway 23 at Kalibo (length 2300 meters). The flight came to a halt on soft ground where passengers evacuated via the aft onboard evacuation slides.
There were no injuries.
At the time of the event, local weather was described being "crazy" with lots of rain and high winds, influenced by tropical storm "Jangmi" adversely affecting flights to and from Panay Island and large parts of the Philippines.
List of recent runway mishaps at Kalibo:
| | | | |
| --- | --- | --- | --- |
| 2014-12-30 | A320 | AirAsia Zest | ran off runway on landing |
| 2013-12-19 | A320 | AirAsia Zest | ran off runway during turnaround |
| 2013-08-26 | A320 | Tigerair Phil. | ran off runway during turnaround |
| 2012-02-13 | A320 | AirPhil Express | ran off runway on landing |
| 2010-08-17 | A320 | Philippine Airlines | ran off runway on landing |
---
OCCURENCE DATASET
Date: 2014-12-30 Time: 17:42
Location: RPVK KLO Kalibo
Country: Philippines
Google Maps: (LINK)
Flight phase: LDG – Flare, Landing Roll, Aborted Landing after Touchdown
Damage to a/c: minor
Flight
Flight no.: Z2 272
From: RPLL/MNL: Manila To: RPVK/KLO: Kalibo
Type: Passenger
Operator: AirAsia Zest
Aircraft
Type: Airbus A320
Registration: RP-C8972
Age a/c: 8,6 years
Constr. No.: 2826
Tweet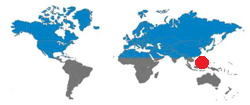 | | | | | |
| --- | --- | --- | --- | --- |
| | Crew | Pax | Other | Total |
| Occupants | 6 | 153 | 0 | 159 |
| Fatalities | 0 | 0 | 0 | 0 |
| Injuries | 0 | 0 | 0 | 0 |
JACDEC 20-year Statistics :
5th recorded safety occurence for the operator
365th safety occurence of type (A320)
5th safety occurence at airport
1st safety occurence for aircraft in question
AirAsia Zest
Image & Information Sources
AP = Airport / AL = Airlines / Avn = Aviation / AW = Airways / C/N: Construction Number / DSP = Domestic Scheduled Passenger / DNP = Domestic Non-Scheduled Passenger / DSC = Domestic Scheduled Cargo / DNC= Domestic Non-Scheduled Cargo / GND = On the ground / parked, stored / FMN= Flying Mission, Air Work / FRY = Ferry-, Positioning Flight / IMC = Intrument Meteorological (flying) Conditions / ISP = International Scheduled Passenger / ISC=International Scheduled Cargo / INP = International Non-Scheduled Passenger / INC =International Non-Scheduled Cargo/ OPS = Flight Operation(s) / NRV = Non-revenue, Private Flight / TRN =Training Flight /  TST = Test & Certification Flight / VMC = Visual Meteorological (flying) Conditions