2014-12-28 Air Sirin Antonov AN-26 crashed against mountain near Uvira DR Congo
The cargo aircraft crashed under cunclear circumstances soon after it took off from Bujumbura International Airport in Burundi, killing all six crewmembers on board.
The crash site is situated about 25 kilometers from Uvira, close to the western shore of Lake Tanganyika.
The aircraft was on the way from Entebbe, Uganda to Pointe Noire in Rep. Congo with  planned en-route stop at Bujumbura.
On Dec.30th, two Puma Helicopters of MONUSCO were sent to the crash site to evacuate the victims. It was cofirmed that there were no survivors.
Identification of the aircraft is not officially confirmed and reported otherwise by congolese media though it is believed the aircraft is 4L-AFS.
---
OCCURENCE DATASET
Date: 2014-12-28 Time: 03:00:00
Location: Mount Kafinda, 25 km from Uvira
Country: DR Congo
Flight phase: ENR – Cruise, Descent, Holding
Damage to a/c: hull loss
Flight
Flight no.:
From: HBBA/BJM: Bujumbura To: FCPP/PNR: Pointe Noire Agotino Neto
Type: Cargo
Operator: Air Sirin
Aircraft
Type: Antonov An-26
Registration: 4L-AFS
Age a/c: 34,5 years
Constr. No.: 8608
Tweet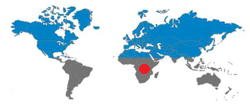 | | | | | |
| --- | --- | --- | --- | --- |
| | Crew | Pax | Other | Total |
| Occupants | 6 | 0 | 0 | 6 |
| Fatalities | 6 | 0 | 0 | 6 |
| Injuries | 0 | 0 | 0 | 0 |
JACDEC 20-year Statistics :
1st recorded safety occurence for the operator
150th safety occurence of type (B747-400)
52nd safety occurence at airport
2nd safety occurence for aircraft in question
Air Sirin
Image & Information Sources
AP = Airport / AL = Airlines / Avn = Aviation / AW = Airways / C/N: Construction Number / DSP = Domestic Scheduled Passenger / DNP = Domestic Non-Scheduled Passenger / DSC = Domestic Scheduled Cargo / DNC= Domestic Non-Scheduled Cargo / GND = On the ground / parked, stored / FMN= Flying Mission, Air Work / FRY = Ferry-, Positioning Flight / IMC = Intrument Meteorological (flying) Conditions / ISP = International Scheduled Passenger / ISC=International Scheduled Cargo / INP = International Non-Scheduled Passenger / INC =International Non-Scheduled Cargo/ OPS = Flight Operation(s) / NRV = Non-revenue, Private Flight / TRN =Training Flight /  TST = Test & Certification Flight / VMC = Visual Meteorological (flying) Conditions