2014-12-28 Air Services BN-2A Islander missing in western Guyana with 2 on board
The aircraft went missing on a intra-guyana flight with two crewmembers on board when it failed to arrive at its destination. No trace of the wreckage or its occupants was found.
The BN-2A Islander took off from Mahdia at 11:42 (local) on a 25 minute cargo flight to Karisparu, located about 50 kilometers to the south in mountainous terrain.
Two minutes after take-off the pilot was handed off by ATC . That was the last trace of the aircraft.
It never landed at its destination or any other suitable airfield in the area.
A search for the plane has been launched.
The pilot-in-command (age 27) has over 8000 hours experience and was familiar with the area around.
As of Jan 2nd, no trace of the aircraft or the persons on board has been found.
As of Jan 18th, after a period of 21 days, the search for the aircraft was called off.
---
OCCURENCE DATASET
Date: 2014-12-28 Time: 11:45
Location: western Guyana area
Country: Guyana
Flight phase: ENR – Cruise, Descent, Holding
Damage to a/c: missing
Flight
Flight no.:
From: SYMD/: Mahdia To: SYKU/-: Karisparu
Type: Cargo
Operator: Air Services (Guyana)
Aircraft
Type: BN-2A Islander
Registration: 8R-GHE
Age a/c: 43,5 years
Constr. No.: 269
Tweet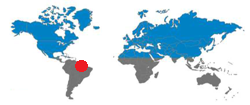 | | | | | |
| --- | --- | --- | --- | --- |
| | Crew | Pax | Other | Total |
| Occupants | 2 | 0 | 0 | 2 |
| Fatalities | 2 | 0 | 0 | 2 |
| Injuries | 0 | 0 | 0 | 0 |
JACDEC 20-year Statistics :
3rd safety occurence for the operator
103rd hull loss of type (BN-2A Islander)
17th safety occurence for Guyana
1st safety occurence for aircraft in question
Air Services Guyana
Image & Information Sources
AP = Airport / AL = Airlines / Avn = Aviation / AW = Airways / C/N: Construction Number / DSP = Domestic Scheduled Passenger / DNP = Domestic Non-Scheduled Passenger / DSC = Domestic Scheduled Cargo / DNC= Domestic Non-Scheduled Cargo / GND = On the ground / parked, stored / FMN= Flying Mission, Air Work / FRY = Ferry-, Positioning Flight / IMC = Intrument Meteorological (flying) Conditions / ISP = International Scheduled Passenger / ISC=International Scheduled Cargo / INP = International Non-Scheduled Passenger / INC =International Non-Scheduled Cargo/ OPS = Flight Operation(s) / NRV = Non-revenue, Private Flight / TRN =Training Flight /  TST = Test & Certification Flight / VMC = Visual Meteorological (flying) Conditions