2014-12-12 Sri Lankan Air Force Antonov An-32 crash near Ratmalana
At least 4 crewmembers died when the aircraft crashed about 10 km northeast of Ratmalana while on approach in fog.
The military transport aircraft was on a positioning flight from Colombo-Bandaranaike Intl Airport  to nearby Ratmalana when it disappeared from radar after the pilots radioed he had difficulties in seeing the runway at Ratmalana because of reduced visibility in the area. 
The aircraft flew further to the east at very low altitude until it impacted trees and the roof of a house until it crashed in a rubber estate. The aircraft came to rest upside down and was destroyed by impact and post-impact fire.
It is understood that only one of the five people on board did survive the accident.
METAR VECC 120050Z 36004KT 1400 R19L/1900 RMID/1700 R01R/1500 BR FEW020 14/13 Q1016 NOSIG=
---
OCCURENCE DATASET
Date: 2014-12-12 Time: 06:20:00
Location: Athurugiriya, 10 km NE of Ratmalana AP
Country: Sri Lanka
Flight phase: APR – Initial Approach (IFR), Final Approach, all Circuit Patterns, Missed Approach/Go-Around
Damage to a/c: hull loss
Flight
Flight no.:
From: VCBI/CMB: Colombo Bandaranaike To: VCCC/RML: Colombu Ratmalana
Type: Military
Operator: Sri Lanka Air Force
Leased from: Unknown
Aircraft
Type: Antonov An-32
Registration: SCM-864
Age a/c: 18,4 years
Constr. No.: 3509
Tweet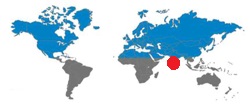 | | | | | |
| --- | --- | --- | --- | --- |
| | Crew | Pax | Other | Total |
| Occupants | 5 | 0 |  0 | 5 |
| Fatalities | 4 | 0 | 0 | 4 |
| Injuries | 1 | 0 | 0 | 1 |
JACDEC 20-year Statistics :
9th safety occurence for the operator
42nd safety occurence of type (AN-32)
– 5th An32 hull loss for SLAF
24th safety occurence in Sri Lanka
JACDEC Airline Safety Report
JACDEC Safety Reports
Image & Information Sources
AP = Airport / AL = Airlines / Avn = Aviation / AW = Airways / C/N: Construction Number / DSP = Domestic Scheduled Passenger / DNP = Domestic Non-Scheduled Passenger / DSC = Domestic Scheduled Cargo / DNC= Domestic Non-Scheduled Cargo / GND = On the ground / parked, stored / FMN= Flying Mission, Air Work / FRY = Ferry-, Positioning Flight / IMC = Intrument Meteorological (flying) Conditions / ISP = International Scheduled Passenger / ISC=International Scheduled Cargo / INP = International Non-Scheduled Passenger / INC =International Non-Scheduled Cargo/ OPS = Flight Operation(s) / NRV = Non-revenue, Private Flight / TRN =Training Flight /  TST = Test & Certification Flight / VMC = Visual Meteorological (flying) Conditions