2014-11-14 Global Airlift HS-748 crashed on approach near Panyagor
The cargo aircraft crashed short of the runway at Panyagor, in Jonglei State, breaking apart on impact.
The two pilots were instantly killed while the 3rd crewmember – who was sitting further back – survived but is in critical condition. At least 10 goats are known to have been killed in the crash.
According to local media the crew eventually having troubles lowering the undercarriage on approach.
Ground witnesses reported the aircraft had to abandon a first approach when on the the 2nd approach it began to loose height abruptly until it impacted ground some 20 meters short of the unpaved runway.
At the time the HS-748 was approaching the airstrip from the south. Panyagor airstrip is situated about 8 km north of Panyagor village as an unpaved "dust" runway, direction 36/18 without any navigational aids. Runway lengh is about 750 meters.
A criminal assault from the ground against the aircraft was ruled out. According to a local resident the aircraft abandoned its first approach because its nosegear failed to deploy.
The aircraft was chartered by Lutheran World Federation for humanitarian flights to South Sudan.
A list of all BAe HS-748 accidents in Sudan / South Sudan over the last two decades:
| | | | | | | |
| --- | --- | --- | --- | --- | --- | --- |
| 2014-11-14 | 5Y-BVQ | 1778 | Global Airlift | Panyagor | APPR | 2 fatal |
| 2014-02-17 | 5Y-HAJ | 1776 | 748 Air Svcs. | Bentiu | LDG | 1 fatal |
| 2012-04-02 | 5Y-BZR | 1736 | Timbis Air Svcs. | Doro | LDG | 0 fatal |
| 2009-12-20 | 5Y-YKM | 1779 | 748 Air Svcs. | Tong | LDG | 1 fatal |
| 2006-10-06 | S2-ABE | 1658 | Best Air | Southern Sudan | LDG | 0 fatal |
| 2006-06-01 | 9Q-CVK | SET17 | Aero Services Corp. | Kapoeta | APPR | 0 fatal |
| 2006-03-17 | 5Y-TCA | 1740 | Trackmark Cargo | Old Fangak | LDG | 0 fatal |
| 2005-02-01 | 9XR-AB | 1564 | African Commuter | Old Fangak | LDG | 0 fatal |
| 1999-02-14 | 9L-LBG | 1566 | 748 Air Svcs. | Foxtrott Airstrip | LDG | 0 fatal |
| | | | | | | |
OCCURENCE DATASET
Date: 2014-11-14 Time: 10:20
Location: SS0016 – Panyagor Airstrip
Country: South Sudan
Flight phase: APR – Initial Approach (IFR), Final Approach, all Circuit Patterns, Missed Approach/Go-Around
Damage to a/c: hull loss
Flight
Flight no.:
From: HSSJ/JUB: Juba Airport To: SS0016/-: Panyagor Airstrip
Type: Cargo
Operator: Global Airlift
Aircraft
Type: BAe HS-748
Registration: 5Y-BVQ
Age a/c: 33,3 years
Constr. No.: 1778
Tweet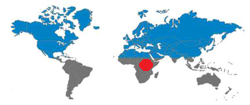 | | | | | |
| --- | --- | --- | --- | --- |
| | Crew | Pax | Other | Total |
| Occupants | 3 | 0 | 0 | 3 |
| Fatalities | 2 | 0 | 0 | 2 |
| Injuries | 1 | 0 | 0 | 1 |
JACDEC 20-year Statistics :
1st safety occurence for the operator
10th hull loss of a HS-748 in Sudan / South Sudan
1st safety occurence at airport
1st safety occurence for aircraft in question
Global Airlift
Image & Information Sources
AP = Airport / AL = Airlines / Avn = Aviation / AW = Airways / C/N: Construction Number / DSP = Domestic Scheduled Passenger / DNP = Domestic Non-Scheduled Passenger / DSC = Domestic Scheduled Cargo / DNC= Domestic Non-Scheduled Cargo / GND = On the ground / parked, stored / FMN= Flying Mission, Air Work / FRY = Ferry-, Positioning Flight / IMC = Intrument Meteorological (flying) Conditions / ISP = International Scheduled Passenger / ISC=International Scheduled Cargo / INP = International Non-Scheduled Passenger / INC =International Non-Scheduled Cargo/ OPS = Flight Operation(s) / NRV = Non-revenue, Private Flight / TRN =Training Flight /  TST = Test & Certification Flight / VMC = Visual Meteorological (flying) Conditions