2014-11-07 Ariana Afghan Boeing 737 damaged in landing accident at Kabul
the aircraft weas damaged when its right undercarriage failed forcing the right engine to strike the ground on landing at Kabul, Afghanistan.
On landing supposedly runway 29 the 737 was involved in an undercarriage mishap resulting in right maingear to gave way forcing the right wing to drop until the aircraft settled on its right engine. 
The aircraft came to a sop generating lots of sparks before coming to rest within the width of the runway. There were no reports about any injuries among passengers or crewmembers. All passengers left the aircraft on the spot via mobile airstairs.
Runway 29 / 11  was closed for all traffic until the Boeing 737 was removed.
Post incident photos  indicate the right maingear may have been stuck in a transit position prior landing.
NOTE:  The accident marks the 3rd major landing occurence at Kabul Intl Airport in the year 2014 after another B737-400 overran the end of the runway in May and a B767-200 experienced tailstrike in June.
---
OCCURENCE DATASET
Date: 2014-11-07 Time: 16:10
Location: OAKB KBL Kabul
Country: Afghanistan
Flight phase: LDG – Flare, Landing Roll, Aborted Landing after Touchdown
Damage to a/c: substantial
Flight
Flight no.: FG 252
From: OAHR/HEA: Herat To: OAKB/KBL: Kabul
Type: Passenger
Operator: Ariana Afghan Airlines
Aircraft
Type: Boeing 737-400
Registration: YA-PIE
Age a/c: 21,5 years
Constr. No.: 26086
Tweet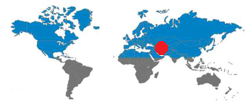 | | | | | |
| --- | --- | --- | --- | --- |
| | Crew | Pax | Other | Total |
| Occupants | – | – |  0 | – |
| Fatalities | 0 | 0 | 0 | 0 |
| Injuries | 0 | 0 | 0 | 0 |
JACDEC 20-year Statistics :
18th safety occurence for the operator
130th safety occurence of type (B737-400)
18tth safety occurence at airport
2nd safety occurence for aircraft in question
Ariana Afghan Airlines
Image & Information Sources
AP = Airport / AL = Airlines / Avn = Aviation / AW = Airways / C/N: Construction Number / DSP = Domestic Scheduled Passenger / DNP = Domestic Non-Scheduled Passenger / DSC = Domestic Scheduled Cargo / DNC= Domestic Non-Scheduled Cargo / GND = On the ground / parked, stored / FMN= Flying Mission, Air Work / FRY = Ferry-, Positioning Flight / IMC = Intrument Meteorological (flying) Conditions / ISP = International Scheduled Passenger / ISC=International Scheduled Cargo / INP = International Non-Scheduled Passenger / INC =International Non-Scheduled Cargo/ OPS = Flight Operation(s) / NRV = Non-revenue, Private Flight / TRN =Training Flight /  TST = Test & Certification Flight / VMC = Visual Meteorological (flying) Conditions