2013-04-12 Report: Ryanair and TAP in near-miss during cruiseflight in Swiss airspace
Swiss accident investigation body (SAIB) reports a near-miss between a Ryanair B737-800 and a TAP Airbus A319 at southeast of Zurich. TCAS and ATC invervened and cleared the situation.
Both aircraft came into close proximity in swiss airspace when the northbound 737-800 mistakenly climbed from FL 360 (36.000) to FL380 where it came into seperation conflict with the portugese A319 aircraft crossing from left to right at FL370.
Both aircraft responded to their resp. TCAS resolution advisories and the controller also received a short time traffic alert conflict alert (STCA)
Closes distance was 0,8 NM lateraly and 650 ft vertically.
SAIB / Causes:
– RYR initiated climb without clearance
FACTORS:
– climb based on cleareance to a different aircraft
– ATC did not realise the climb clearance was not read back
CONT FACTOR:
– request for climb of 2nd RYR flightcrew because of turbulence without giving their ATC callsign
– issue of altitude clearance by air traffic control without verification of the crew which had made the request
– absent reaction to another crew to whom the clearance was addressed to
– insufficient attention to the prevailing weather conditions when it was decided to combine multiple sectors
---
OCCURENCE DATASET
Date: 2013-04-12 Time: 18:11
Location: 20 NM SE of Zurich
Country: Switzerland
Flight phase: ENR – Cruise, Descent, Holding
Damage to both a/c: none
Flight1
Flight no.: FR 3595
From: LIRP/PSA: Pisa San Giusto To: EDHL/LBC: Lubeck – Blankensee
Type: Passenger
Operator: Ryanair
Aircraft
Type: Boeing 737-800
Registration: EI-ENK
Age a/c: 2,3 years
Constr. No.: 40303
Flight2
Flight no.: TP 706
From: LPPT/LIS: Lisbon To: LKPR/PRG: Prague Ruzyne
Type: Passenger
Operator: TAP Portugal
Aircraft
Type: Airbus A319
Registration: CS-TTD
Age a/c: 15,1 years
Constr. No.: 790
Tweet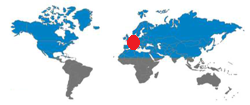 | | | | | |
| --- | --- | --- | --- | --- |
| | Crew | Pax | Other | Total |
| Occupants1 | – | – | 0 | – |
| Occupants2 | – | – | 0 | – |
| Fatalities | 0 | 0 | 0 | 0 |
| Injuries | 0 | 0 | 0 | 0 |
JACDEC 20-year Statistics :
6th major airspace conflict incident in Switzerland
JACDEC AIrline Safety Report
Ryanair + TAP Portugal
Image & Information Sources

© CS-TTD  J.-A. Richter| JACDEC
AP = Airport / AL = Airlines / Avn = Aviation / AW = Airways / C/N: Construction Number / DSP = Domestic Scheduled Passenger / DNP = Domestic Non-Scheduled Passenger / DSC = Domestic Scheduled Cargo / DNC= Domestic Non-Scheduled Cargo / GND = On the ground / parked, stored / FMN= Flying Mission, Air Work / FRY = Ferry-, Positioning Flight / IMC = Intrument Meteorological (flying) Conditions / ISP = International Scheduled Passenger / ISC=International Scheduled Cargo / INP = International Non-Scheduled Passenger / INC =International Non-Scheduled Cargo/ OPS = Flight Operation(s) / NRV = Non-revenue, Private Flight / TRN =Training Flight /  TST = Test & Certification Flight / VMC = Visual Meteorological (flying) Conditions