2014-10-25 Biega Airways Let 410 crash near Shabunda DR Congo
On final approach to the twin engine aircraft lost hieght and impacted uneven terrain about 2 km short of the beggining of the runway.
The LET 410 broke into two parts and came to rest close to the east bank of South Kivu River.
Both pilots received critical injuries but survived the accident. The aircraft was damaged beyond repair.
At the time the LET 410 was operating on a cargo flight with 1,5 tons on board.
Local media reported the accident site lays in area controlled by Raia Mutomboki rebel militia where armed conflicts with Congo Government troops took place in the past.
---
OCCURENCE DATASET
Date: 2014-10-25 Time: ~12:00
Location: FZMW Shabunda area
Country: DR Congo
Flight phase: APR – Initial Approach (IFR), Final Approach
Damage to a/c: hull loss
Flight
Flight no.: –
From: FZMA/BKY: Bukavu Kavuma To: FZMW/: Shabunda
Type: Cargo
Operator: Biega Airways
Aircraft
Type: Let 410 Turbolet
Registration: 9Q-COT
Age a/c: 31,3 years
Constr. No.: 831023
Tweet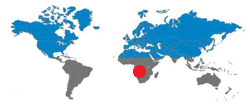 | | | | | |
| --- | --- | --- | --- | --- |
| | Crew | Pax | Other | Total |
| Occupants | 2 | 0 |  2 | – |
| Fatalities | 0 | 0 | 0 | 0 |
| Injuries | 2 | 0 | 2 | 2 |
JACDEC 20-year Statistics :
1st safety occurence for the operator
96th safety occurence of type
4th safety occurence at airport
1st safety occurence for aircraft in question
Biega Airways
Image & Information Sources
AP = Airport / AL = Airlines / Avn = Aviation / AW = Airways / C/N: Construction Number / DSP = Domestic Scheduled Passenger / DNP = Domestic Non-Scheduled Passenger / DSC = Domestic Scheduled Cargo / DNC= Domestic Non-Scheduled Cargo / GND = On the ground / parked, stored / FMN= Flying Mission, Air Work / FRY = Ferry-, Positioning Flight / IMC = Intrument Meteorological (flying) Conditions / ISP = International Scheduled Passenger / ISC=International Scheduled Cargo / INP = International Non-Scheduled Passenger / INC =International Non-Scheduled Cargo/ OPS = Flight Operation(s) / NRV = Non-revenue, Private Flight / TRN =Training Flight /  TST = Test & Certification Flight / VMC = Visual Meteorological (flying) Conditions