2014-10-08 Red Wings Tupolev Tu-204 ran off taxiway at Krasnodar
After landing on runway 05R in good visibility conditions, the pilots apparently lost directional control of the aircraft. The Tu-204 drifted to the left side of the taxiway "Mike" until its left maingear and nosegear rolled over unpaved surface. After a distance of about 100 meters the pilots stopped the aircraft and all passengers disembarked via mobile airstairs.
There were no injuries. The aircraft was not damaged and flew back to Moscow later that day.
Russian authority MAK is investigating the incident.
---
OCCURENCE DATASET
Date: 2014-10-08 Time: 18:40:00
Location: URKK KRR Krasnodar
Country: Russia
Flight phase: TXI – Taxi, Power Back
Damage to a/c: minor
Flight
Flight no.: IN 157
From: UUDD/DME: Moscow Domodedovo To: URKK KRR Krasnodar
Type: Passenger
Operator: Red Wings
Leased from: Unknown
Aircraft
Type: Tupolev Tu-204
Registration: RA-64043
Age a/c: 6,7 years
Constr. No.: 1450743764043
Assumed Taxi Route
Map (provided by JEPPESON | JACDEC)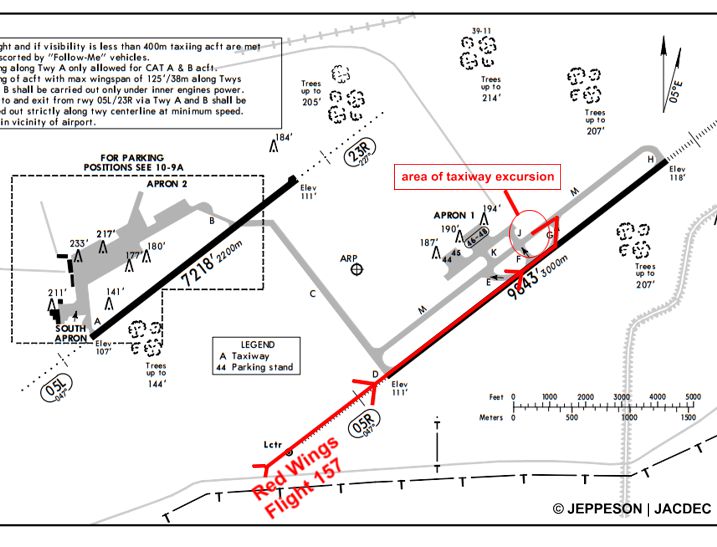 Tweet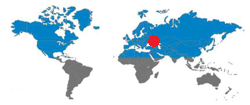 | | | | | |
| --- | --- | --- | --- | --- |
| | Crew | Pax | Other | Total |
| Occupants | – | 175 |  0 | – |
| Fatalities | 0 | 0 | 0 | 0 |
| Injuries | 0 | 0 | 0 | 0 |
JACDEC 20-year Statistics :
5th safety occurence for the operator
10th safety occurence of type (TU-204)
4th safety occurence at airport
3rd safety occurence for aircraft in question (2 minor events)
Red Wings
Image & Information Sources
AP = Airport / AL = Airlines / Avn = Aviation / AW = Airways / C/N: Construction Number / DSP = Domestic Scheduled Passenger / DNP = Domestic Non-Scheduled Passenger / DSC = Domestic Scheduled Cargo / DNC= Domestic Non-Scheduled Cargo / GND = On the ground / parked, stored / FMN= Flying Mission, Air Work / FRY = Ferry-, Positioning Flight / IMC = Intrument Meteorological (flying) Conditions / ISP = International Scheduled Passenger / ISC=International Scheduled Cargo / INP = International Non-Scheduled Passenger / INC =International Non-Scheduled Cargo/ OPS = Flight Operation(s) / NRV = Non-revenue, Private Flight / TRN =Training Flight /  TST = Test & Certification Flight / VMC = Visual Meteorological (flying) Conditions