2014-10-01 KLM Boeing 747-400 left the runway at Amsterdam-Schiphol
The Boeing 747 departed paved surface during landing run at Amsterdam-Schiphol Airport and became stuck in the grass. All on board remained unhurt.
On landing at runway 18R (Polderbaan) in pre-dawn darkness, the aircraft began to veer off the the right of track during deceleration process. Its nosegear left the paved shoulder of the runway travelled about eight meters further until it came to rest in the grass. The maingear remained on the side of the runway.
The incident occured after about 2/3 of the runway probably between high-speed taxiways "Whiskey 4" and "Whiskey 5".
There were no injuries among passengers or crewmembers. All passengers left the aircraft on the spot via mobile airstairs.
Damage to the aircraft is minimal if any.
Runway 18R/36L was closed for all traffic until the 747 was removed and towed to the ramp at around 11:00L.
At the time of the occurence, the visibility was reduced to 2400 meters in fog.
METAR EHAM 010355Z 18006KT 2400 R18C/1400D R27/1600N R18R/0350D R06/P2000N BCFG NSC 12/12 Q1024 TEMPO 1200=
Early reports indicate the pilots reported steering control problems after the autopilot was disconnected during the landing run. Other reports suggests a brake failure may have occured.
NOTE: This incident marks the 2nd major safety occurence the PH-BFN (msn 26372) . The aircraft received major damage during a towing incident in FEB 2006.
---
OCCURENCE DATASET
Date: 2014-10-01 Time: 06:00
Location: EHAM AMS Amsterdam-Schiphol Intl Airport
Country: Netherlands
Flight phase: LDG – Flare, Landing Roll, Aborted Landing after Touchdown
Damage to a/c: none
Flight
Flight no.: KL 566
From: HKJK/NBO: Nairobi Intl To: EHAM/AMS: Amsterdam-Schiphol Intl Airport
Type: Passenger
Operator: KLM – Royal Dutch Airlines
Aircraft
Type: Boeing 747-400
Registration: PH-BFN
Age a/c: 21,5 years
Constr. No.: 26372
Tweet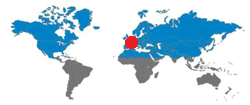 | | | | | |
| --- | --- | --- | --- | --- |
| | Crew | Pax | Other | Total |
| Occupants | – | – |  0 | – |
| Fatalities | 0 | 0 | 0 | 0 |
| Injuries | 0 | 0 | 0 | 0 |
JACDEC 20-year Statistics :
26th safety occurence for the operator
150th safety occurence of type (B747-400)
52nd safety occurence at airport
2nd safety occurence for aircraft in question
KLM Royal Dutch Airlines
Image & Information Sources
AP = Airport / AL = Airlines / Avn = Aviation / AW = Airways / C/N: Construction Number / DSP = Domestic Scheduled Passenger / DNP = Domestic Non-Scheduled Passenger / DSC = Domestic Scheduled Cargo / DNC= Domestic Non-Scheduled Cargo / GND = On the ground / parked, stored / FMN= Flying Mission, Air Work / FRY = Ferry-, Positioning Flight / IMC = Intrument Meteorological (flying) Conditions / ISP = International Scheduled Passenger / ISC=International Scheduled Cargo / INP = International Non-Scheduled Passenger / INC =International Non-Scheduled Cargo/ OPS = Flight Operation(s) / NRV = Non-revenue, Private Flight / TRN =Training Flight /  TST = Test & Certification Flight / VMC = Visual Meteorological (flying) Conditions