2014-07-20 EgyptAir Boeing 737-800 in near miss event near Copenhagen
The Boeing 737 was on approach to Copenhagen under ATC control, when it encountered a near miss with a Cessna 172 lighttype flying at 4.00 feet. Lateral and vertical separation was less than 35 meters.
The egyptian passenger aircraft was vectored to an ILS approach to runway 04L at Copenhagen Kastrup International Airport, descending to 4000 feet when conflicting traffic appeared nearly at the same altitude and heading.
A private Cessna 172 (registration OY-AKH) on its way from Roenne, Bornholm to Roskilde Airport, west of Copenhagen was flying under visual flight rules (VFR) at 4000 feet as well. While the passenger jet was in contact with Copenhagen Approach, the Cessna 172 was in contact with Malmoe, Sweden on a different frequency.
Danish accident investigation authority (HCL) reported that the smaller aircraft´s transponder did not give any altitude readings preventing a automated conflict detection by STCA (ATC) or TCAS (inside the cockpit).
It is estimated that both aircraft passed each other extremely close with a lateral distance of only 0.1 nautical miles at about the same altitude.  The conflict occured about 1 nautical mile east of Falsterbo, Sweden.
At the time, local weeather was fine with clear skies and good visibility.
SA 20/07/2014 11:20-> METAR EKCH 201120Z 09012KT CAVOK 26/13 Q1015 NOSIG
After the conflict, both aircraft proceeded normally to their destinations.
The Danish authority has launched an investigation.
---
OCCURENCE DATASET
Date: 2014-07-20 Time: 13:08
Location: 1 NM East of Falsterbo
Country: Sweden
Flight phase: ENR3 – Descent IFR Descent from cruise to Initial Approach Fix (IAF) or VFR pattern entry.
Damage to a/c: none
Flight
Flight no.: MS 759
From: HECA/CAI: Cairo To: EKCH/CPH: Kobenhavn Kastrup
Type: Passenger
Operator: EgyptAir
Aircraft
Type: Boeing 737-800
Registration: SU-GDY
Age a/c: 3,8 years
Constr. No.: 40758
Tweet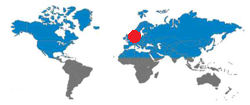 | | | | | |
| --- | --- | --- | --- | --- |
| | Crew | Pax | Other | Total |
| Occupants | – | 144 | 2 | – |
| Fatalities | 0 | 0 | 0 | 0 |
| Injuries | 0 | 0 | 0 | 0 |
JACDEC 20-year Statistics :
23rd safety occurence for the operator
247th safety occurence of type
1st safety occurence for aircraft in question
18th near miss event
EgyptAir
Image & Information Sources
Preliminary Investigation Report
Havarikommissionen (HCL)

http://www.havarikommissionen.dk/
AP = Airport / AL = Airlines / Avn = Aviation / AW = Airways / C/N: Construction Number / DSP = Domestic Scheduled Passenger / DNP = Domestic Non-Scheduled Passenger / DSC = Domestic Scheduled Cargo / DNC= Domestic Non-Scheduled Cargo / GND = On the ground / parked, stored / FMN= Flying Mission, Air Work / FRY = Ferry-, Positioning Flight / IMC = Intrument Meteorological (flying) Conditions / ISP = International Scheduled Passenger / ISC=International Scheduled Cargo / INP = International Non-Scheduled Passenger / INC =International Non-Scheduled Cargo/ OPS = Flight Operation(s) / NRV = Non-revenue, Private Flight / TRN =Training Flight /  TST = Test & Certification Flight / VMC = Visual Meteorological (flying) Conditions