2014-02-16 Nepal Airlines DHC-6 Twin Otter crash final report out
The aircraft went missing in bad weather conditions when it flew into ground about half an hour after departure from Pokhara Airport.
Apparently due to weather concerns, the pilots earlier considered to divert to Bhairawawa Airport, located about 50 NM southwest of Pokhara but failed to report any further position.
The pilots made last radio contact with Bhairahawa Tower frequency at 13:13 L. Search and rescue operations failed to locate the aircraft in daylight time.
First report the aircraft came town in wooded hillside near Khidin town, turned out to be false. The remains of the Twin Otter were located the following morning west of the town of Sandhikharka at an altitude of 7000 feet. There were no survivors.
Probable Cause
After detail investigation and thorough analysis of the circumstances and evidences, the Commission has determined that the most probable causes of the accident is the
"Losing situational awareness on the part of PIC while flying into instrument meteorological weather condition to the extent of Collision with terrain."
The contributing factors to the occurrence are:
– Deteriorated weather associated with western disturbance, unstable in nature and embedded CB.
– Inappropriate and insufficient crew coordination while changing course of action,
---
OCCURENCE DATASET
Date: 2014-02-16 Time: 13:30
Location: Sandhikarka area, Argakhanchi Prov.
Country: Nepal
Flight phase: ENR – Cruise, Descent, Holding
Damage to a/c: hull loss
Flight
Flight no.: RA 183
From: VNPK/PKR: Pokhara To: VNJL/JUM: Jumla
Type: Passenger
Operator: Nepal Airlines
Aircraft
Type: DHC-6 Twin Otter
Registration: 9N-ABB
Age a/c: 42,7 years
Constr. No.: 302
Flight route and accident site (file: Nepal AAIC)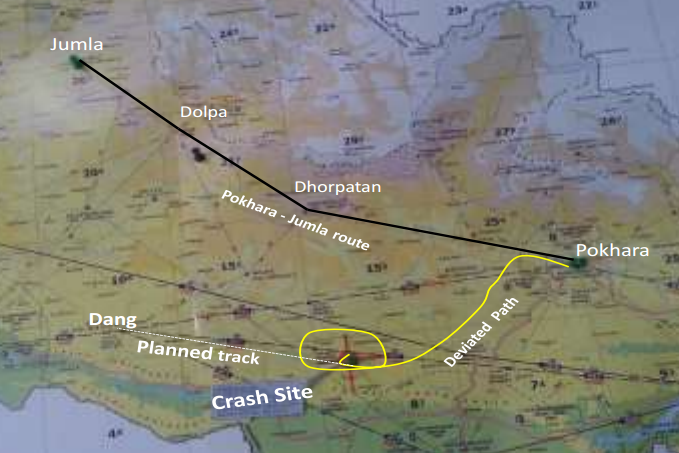 Flight track 9N-ABB (© SkyVector.com | JACDEC)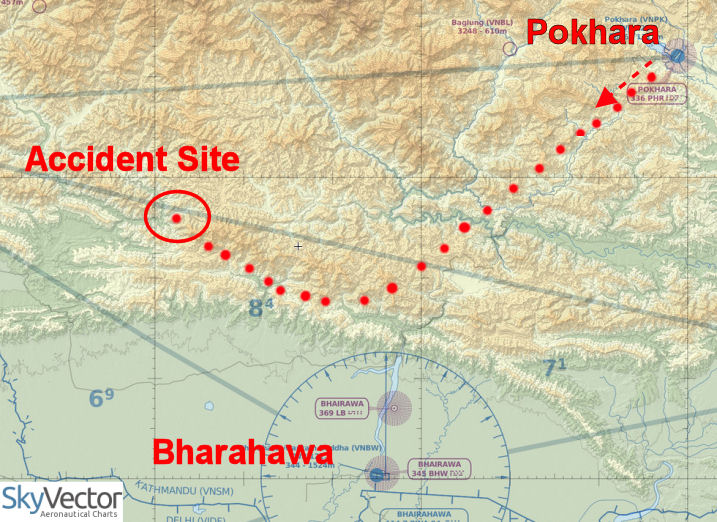 Tweet
| | | | | |
| --- | --- | --- | --- | --- |
| | Crew | Pax | Other | Total |
| Occupants | 3 | 15 |  18 | |
| Fatalities | 3 | 15 | 18 | 0 |
| Injuries | 0 | 0 | 0 | 0 |
Image & Information Sources
AP = Airport / AL = Airlines / Avn = Aviation / AW = Airways / C/N: Construction Number / DSP = Domestic Scheduled Passenger / DNP = Domestic Non-Scheduled Passenger / DSC = Domestic Scheduled Cargo / DNC= Domestic Non-Scheduled Cargo / GND = On the ground / parked, stored / FMN= Flying Mission, Air Work / FRY = Ferry-, Positioning Flight / IMC = Intrument Meteorological (flying) Conditions / ISP = International Scheduled Passenger / ISC=International Scheduled Cargo / INP = International Non-Scheduled Passenger / INC =International Non-Scheduled Cargo/ OPS = Flight Operation(s) / NRV = Non-revenue, Private Flight / TRN =Training Flight /  TST = Test & Certification Flight / VMC = Visual Meteorological (flying) Conditions