2014-09-06 Jubba Airways Fokker 50 in runway excursion at Mogadishu
On landing at Mogadishu Airport (apparently runway 05) the pilots reportedly lost control directional control of the aircraft or they expereinced a brake failure.
The Fokker 50 went off to the right side of the runway where it ran into a ditch and collided with a concrete wall. The nose was crushed additinal damage occured to the right undercarriage and right wing.
There were no reports about any injuries among passengers or crewmembers.
---
OCCURENCE DATASET
Date: 2014-09-06 Time: 14:25
Location: HCMM MGQ Mogadishu
Country: Somalia
Flight phase: LDG – Flare, Landing Roll, Aborted Landing after Touchdown
Damage to a/c: substantial
Flight
Flight no.: 
From: HCMR/GLK: Gaalkacyo Airport (HCMR), Puntland To: HCMM/MGQ: Mogadishu
Type: Passenger
Operator: Jubba Airways
Aircraft
Type: Fokker 50
Registration: 5Y-BYE
Age a/c: 23,8 years
Constr. No.: 20204
Tweet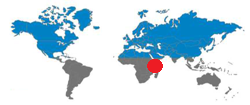 | | | | | |
| --- | --- | --- | --- | --- |
| | Crew | Pax | Other | Total |
| Occupants | – | – |  0 | 24 |
| Fatalities | 0 | 0 | 0 | 0 |
| Injuries | 0 | 0 | 0 | 0 |
JACDEC 20-year Statistics :
2nd safety occurence for the operator
42th safety occurence of type
6th safety occurence at airport
1st safety occurence for aircraft in question
Jubba Airways
Image & Information Sources
AP = Airport / AL = Airlines / Avn = Aviation / AW = Airways / C/N: Construction Number / DSP = Domestic Scheduled Passenger / DNP = Domestic Non-Scheduled Passenger / DSC = Domestic Scheduled Cargo / DNC= Domestic Non-Scheduled Cargo / GND = On the ground / parked, stored / FMN= Flying Mission, Air Work / FRY = Ferry-, Positioning Flight / IMC = Intrument Meteorological (flying) Conditions / ISP = International Scheduled Passenger / ISC=International Scheduled Cargo / INP = International Non-Scheduled Passenger / INC =International Non-Scheduled Cargo/ OPS = Flight Operation(s) / NRV = Non-revenue, Private Flight / TRN =Training Flight /  TST = Test & Certification Flight / VMC = Visual Meteorological (flying) Conditions