2014-04-14 Sun Express Germany Boeing 737-800 too close to terrain at Kayseri
The tourist laden Boeing 737-800 received multiple low-altitude and terrain collision alerts wile on approach to the airport from the east.
On approach to the extended centreline of runway 25 at Kayseri Erkilet Airport, while in the turn to the localizer beam, the pilots overshot the centre line to the south.
Whilst descending from 7500 to 6200 feet, the EGPWS issued a "TERRAIN"-caution alert message. The pilots entered a steep turn to the right and climbed again to 6800 feet.  15 seconds later, a "TERRAIN PULL UP"-warning was received.
After the flight reached an altitude of 6850 feet, theEGPWS warning stopped. The 737 continued the for a safe landing.
Kayseri´s Airport is situated at an elevation of 3.463 feet. There is rising terrain to the east and southeast of the airport rising above 8.800 feet. Only runway 25 is equipped with an ILS.
German authority BFU is investigating and considered this occurence as a "serious incident".
---
OCCURENCE DATASET
Date: 2014-04-14 Time: 02:30
Location: LTAU ASR Kayseri Erkilet area
Country: Turkey
Flight phase: APR – Initial Approach (IFR), Final Approach, all Circuit Patterns, Missed Approach/Go-Around
Damage to a/c: none
Flight
Flight no.: XG 1761
From: EDDS/STR: Stuttgart To: LTAU/ASR: Kayseri Erkilet
Type: Passenger
Operator: Sun Express Germany
Aircraft
Type: Boeing 737-800
Registration: D-ASXD
Age a/c: 9,96 years
Constr. No.: 33562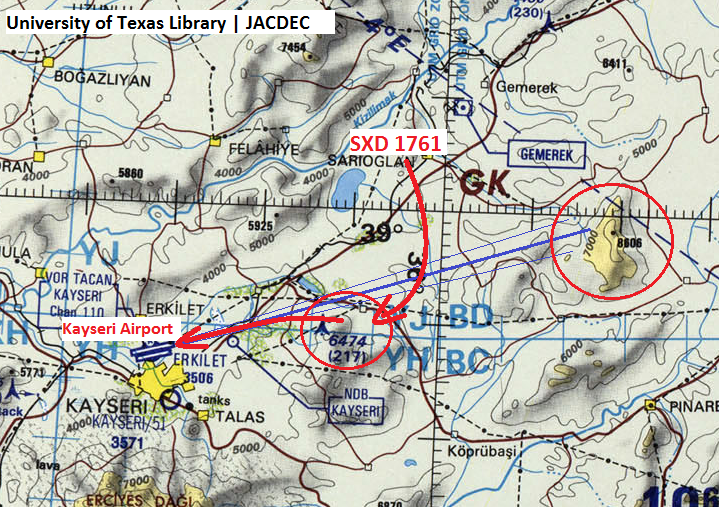 Approach Chart for runway 25 (Jeppeson)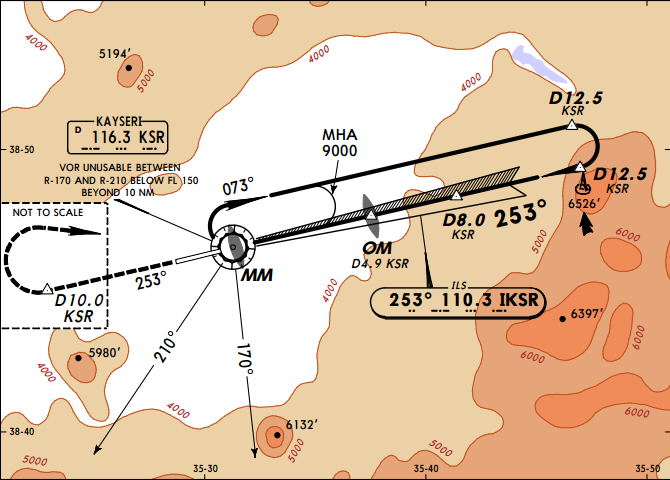 Tweet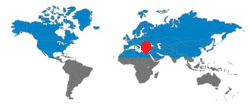 | | | | | |
| --- | --- | --- | --- | --- |
| | Crew | Pax | Other | Total |
| Occupants | 7 | 188 |  0 | 195 |
| Fatalities | 0 | 0 | 0 | 0 |
| Injuries | 0 | 0 | 0 | 0 |
JACDEC 20-year Statistics :
1st safety occurence for the operator
240th safety occurence of type
2md safety occurence at airport
1st safety occurence for aircraft in question
Sun Express Germany
Image & Information Sources
AP = Airport / AL = Airlines / Avn = Aviation / AW = Airways / C/N: Construction Number / DSP = Domestic Scheduled Passenger / DNP = Domestic Non-Scheduled Passenger / DSC = Domestic Scheduled Cargo / DNC= Domestic Non-Scheduled Cargo / GND = On the ground / parked, stored / FMN= Flying Mission, Air Work / FRY = Ferry-, Positioning Flight / IMC = Intrument Meteorological (flying) Conditions / ISP = International Scheduled Passenger / ISC=International Scheduled Cargo / INP = International Non-Scheduled Passenger / INC =International Non-Scheduled Cargo/ OPS = Flight Operation(s) / NRV = Non-revenue, Private Flight / TRN =Training Flight /  TST = Test & Certification Flight / VMC = Visual Meteorological (flying) Conditions