2014-08-31 Safari Air Svcs Fokker 27 crashed in Serengeti, Tanzania
The cargo aircraft departed Mwanza Airport at 19:26L and climbed normally to an altitude of 14000 ft. notheast of the airport when contact was lost.
The burnt wreckage was fund the next morning in the Serengeti National Park. All on board were found dead. The wreckage caught fire setting ablaze all larger parts of the propeller driven Fokker 27.
Tanzanian Aviation Authority reported last commmunication with the pilots was made about 30 minutes after departure, when the Fokker was 40 km from the Kenyan border flying at 17000 ft. There was no indication about any distress or any problem with the flight.
---
OCCURENCE DATASET
Date: 2014-08-31 Time: ~19:45
Location: Serengei Park area, Mara
Country: Tanzania
Flight phase: ENR – Cruise, Descent, Holding
Damage to a/c: hull loss
Flight
Flight no.: –
From: HTMW/MWZ: Mwanza To: HKJK/NBO: Nairobi Intl
Type: Cargo
Operator: Safari Air Services
Leased from: Unknown
Aircraft
Type: Fokker F-27-500
Registration: 5Y-SXP
Age a/c: 29,3 years
Constr. No.: 10681
Tweet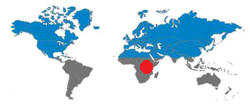 | | | | | |
| --- | --- | --- | --- | --- |
| | Crew | Pax | Other | Total |
| Occupants | 3 | 0 |  0 | 3 |
| Fatalities | 3 | 0 | 0 | 3 |
| Injuries | 0 | 0 | 0 | 0 |
JACDEC 20-year Statistics :
1st safety occurence for the operator
13th safety occurence of type
1st safety occurence at airport
1st safety occurence for aircraft in question
Safari Air Services
Image & Information Sources
AP = Airport / AL = Airlines / Avn = Aviation / AW = Airways / C/N: Construction Number / DSP = Domestic Scheduled Passenger / DNP = Domestic Non-Scheduled Passenger / DSC = Domestic Scheduled Cargo / DNC= Domestic Non-Scheduled Cargo / GND = On the ground / parked, stored / FMN= Flying Mission, Air Work / FRY = Ferry-, Positioning Flight / IMC = Intrument Meteorological (flying) Conditions / ISP = International Scheduled Passenger / ISC=International Scheduled Cargo / INP = International Non-Scheduled Passenger / INC =International Non-Scheduled Cargo/ OPS = Flight Operation(s) / NRV = Non-revenue, Private Flight / TRN =Training Flight /  TST = Test & Certification Flight / VMC = Visual Meteorological (flying) Conditions