2013-09-22 Iberia A319 runway incursion with vehicle at Madrid
The A319 landed on runway 18L at Madrid-Barajas Airport which was occupied by an airport vehicle.
In darkness but fair visibility the A319 was cleared to land on runway 18L by the tower controller. At the same time a runway inspection car was authorized to check runway 18L after a bird report.
When the A319 was on final approach, the tower controller tried to contact the driver repeatedly via radio, but failed. Despite the unsure situation no go-around instruction was issued and flight IB 3471 was cleared to land.
The A319 overflew the vehicle when it crossed the runway threshold and continued to perform a normal landing.
Spanish CIAIAC is investigating.
---
OCCURENCE DATASET
Date: 2013-09-22 Time: 21:04
Location: LEMD MAD Madrid-Barajas Intl Airport
Country: Spain
Flight phase: LDG – Flare, Landing Roll, Aborted Landing after Touchdown
Damage to a/c: none
Flight
Flight no.: IB 3471
From: LSZH/ZRH: Zurich To: LEMD/MAD: Madrid-Barajas Intl Airport
Type: Passenger
Operator: Iberia
Aircraft
Type: Airbus A319
Registration: EC-JEI
Age a/c: 8,8 years
Constr. No.: 2311
Tweet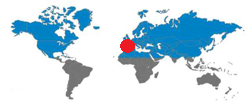 | | | | | |
| --- | --- | --- | --- | --- |
| | Crew | Pax | Other | Total |
| Occupants | 5 | 98 | 1 | – |
| Fatalities | 0 | 0 | 0 | 0 |
| Injuries | 0 | 0 | 0 | 0 |
JACDEC 20-year Statistics :
40th safety occurence for the operator
99th safety occurence of type
25th safety occurence at airport
1st safety occurence for aircraft in question
Iberia
Image & Information Sources
AP = Airport / AL = Airlines / Avn = Aviation / AW = Airways / C/N: Construction Number / DSP = Domestic Scheduled Passenger / DNP = Domestic Non-Scheduled Passenger / DSC = Domestic Scheduled Cargo / DNC= Domestic Non-Scheduled Cargo / GND = On the ground / parked, stored / FMN= Flying Mission, Air Work / FRY = Ferry-, Positioning Flight / IMC = Intrument Meteorological (flying) Conditions / ISP = International Scheduled Passenger / ISC=International Scheduled Cargo / INP = International Non-Scheduled Passenger / INC =International Non-Scheduled Cargo/ OPS = Flight Operation(s) / NRV = Non-revenue, Private Flight / TRN =Training Flight /  TST = Test & Certification Flight / VMC = Visual Meteorological (flying) Conditions