2014-08-20 Florida Air Transport Douglas C-54 emergency landing at New Smyrna Beach
The vintage four-engine aircraft made an emergency landing on runway 11 at New Smyrna Beach Airport, FL, USA following a mechanical fault within the nosegear system.
On approach, the pilots were unable to extend the nosegear. Consequently, the crew was forced to carry out an emergency landing only on the maingear.
The aircraft skidded to a halt about 500 meters after touchdown. Direcvtional control was maintained and the C-54 came to rest in the middle of the runway just behind the intersection of runway 20.
There was no fire.
All on board left the aircraft unhurt.
Other sources reported the aircraft landed hard causing its nosegear to fail.
---
OCCURENCE DATASET
Date: 2014-08-20 Time: 15:57
Location: KEVB New Smyrna Beach Mun
Country: USA
Flight phase: LDG – Flare, Landing Roll, Aborted Landing after Touchdown
Damage to a/c: substantial
Flight
Flight no.: 
From: – To: KEVB/: New Smyrna Beach Municipal AP
Type: Cargo
Operator: Florida Air Transport
Aircraft
Type: Douglas DC-4 / C-54 Skymaster
Registration: N9015Q
Age a/c: 69,0 years
Constr. No.: 22178
Tweet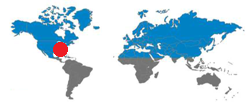 | | | | | |
| --- | --- | --- | --- | --- |
| | Crew | Pax | Other | Total |
| Occupants | – | – |  0 | – |
| Fatalities | 0 | 0 | 0 | 0 |
| Injuries | 0 | 0 | 0 | 0 |
JACDEC 20-year Statistics :
1st safety occurence for the operator
13th safety occurence of type
1st safety occurence at airport
1st safety occurence for aircraft in question
Florida Air Transport
Image & Information Sources
AP = Airport / AL = Airlines / Avn = Aviation / AW = Airways / C/N: Construction Number / DSP = Domestic Scheduled Passenger / DNP = Domestic Non-Scheduled Passenger / DSC = Domestic Scheduled Cargo / DNC= Domestic Non-Scheduled Cargo / GND = On the ground / parked, stored / FMN= Flying Mission, Air Work / FRY = Ferry-, Positioning Flight / IMC = Intrument Meteorological (flying) Conditions / ISP = International Scheduled Passenger / ISC=International Scheduled Cargo / INP = International Non-Scheduled Passenger / INC =International Non-Scheduled Cargo/ OPS = Flight Operation(s) / NRV = Non-revenue, Private Flight / TRN =Training Flight /  TST = Test & Certification Flight / VMC = Visual Meteorological (flying) Conditions