2014-08-15 Links Air Jetstream 31 landing accident at Doncaster
The aircraft suffered a collapse of its left main gear on landing at Doncaster -Robin Hood Airport, UK.
The regional aircraft sustained substantial damage in a landing accident at Doncaster, Sheffield-Robin Hood Airport.
The left hand main gear collapsed seconds after touchdown on runway 20.
All on board left the aircraft without serious injuries.
The aircraft sustained serious damage when it hits the ground and skidded to a stop on the grass after about 250 meters.
Doncaster Airport was forced  close for all traffic until the next morning because of the aircraft´s proximity to the runway.
British authority AAIB has launched an investigation.
NOTE: The aircraft in question experienced a similar mishap when its right maingear collapsed on landing at Isle of Man during its operation for previous owner Manx2 on 2012-03-08 (AAIB REPORT).
---
OCCURENCE DATASET
Date: 2014-08-15 Time: 19:30
Location: EGCN DSA Doncaster – Robin Hood Airport
Country: United Kingdom
Flight phase: LDG – Flare, Landing Roll, Aborted Landing after Touchdown
Damage to a/c: substantial
Flight
Flight no.: 207
From: EGAC/BHD: Belfast City To: EGCN/DSA: Doncaster-Robin Hood Airport
Type: Passenger
Operator: Links Air
Aircraft
Type: BAe Jetstream 31 / 32
Registration: G-GAVA
Age a/c: 26,7 years
Constr. No.: 785
Tweet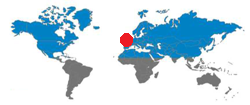 | | | | | |
| --- | --- | --- | --- | --- |
| | Crew | Pax | Other | Total |
| Occupants | 2 | 1 |  0 | 3 |
| Fatalities | 0 | 0 | 0 | 0 |
| Injuries | 0 | 0 | 0 | 0 |
JACDEC 20-year Statistics :
1st safety occurence for the airline
32nd safety occurence of type
1st safety occurence at airport
2nd safety occurence for aircraft in question
Links Air Report
Image & Information Sources
AP = Airport / AL = Airlines / Avn = Aviation / AW = Airways / C/N: Construction Number / DSP = Domestic Scheduled Passenger / DNP = Domestic Non-Scheduled Passenger / DSC = Domestic Scheduled Cargo / DNC= Domestic Non-Scheduled Cargo / GND = On the ground / parked, stored / FMN= Flying Mission, Air Work / FRY = Ferry-, Positioning Flight / IMC = Intrument Meteorological (flying) Conditions / ISP = International Scheduled Passenger / ISC=International Scheduled Cargo / INP = International Non-Scheduled Passenger / INC =International Non-Scheduled Cargo/ OPS = Flight Operation(s) / NRV = Non-revenue, Private Flight / TRN =Training Flight /  TST = Test & Certification Flight / VMC = Visual Meteorological (flying) Conditions