2014-08-07 Aer Caribe An-26 landing without nosegear at Guaviare
On approach the pilots were unable to extend the nose gear.
 After several fruitless attempts a laning without the nose gear was attempted. On landing the nose sank to the ground trailing sparks before the AN-26 came to rest in the middle of the runway. Nobody on board was injured.
Colombia's GRIAA rated the occurence as an accident.
The aircraft was damaged beyond repair when it hits the ground hard and skidded to a halt after about 250 meters.
Local aviation authorities habe begun an investigation.
---
OCCURENCE DATASET
Date: 2014-08-07 Time: –
Location: SKSJ SJE San Jose del Guaviare
Country: Colombia
Flight phase: LDG – Flare, Landing Roll, Aborted Landing after Touchdown
Damage to a/c: substantial
Flight
Flight no.: 
From: – To: SKSJ/SJE: San Jose del Guaviare
Type: Cargo
Operator: Aer Caribe
Aircraft
Type: Antonov An-26
Registration: HK-4730
Age a/c: 34,3 years
Constr. No.: 9510
Tweet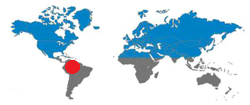 | | | | | |
| --- | --- | --- | --- | --- |
| | Crew | Pax | Other | Total |
| Occupants | – | – | 0 | 0 |
| Fatalities | 0 | 0 | 0 | 0 |
| Injuries | 0 | 0 | 0 | 0 |
JACDEC 20-year Statistics :
3rd safety occurence for the airline in 2014
63rd safety occurence of type
2nd safety occurence at airport
1st safety occurence for aircraft in question
Airline Safety Report from JACDEC
Aer Caribe
Image & Information Sources
AP = Airport / AL = Airlines / Avn = Aviation / AW = Airways / C/N: Construction Number / DSP = Domestic Scheduled Passenger / DNP = Domestic Non-Scheduled Passenger / DSC = Domestic Scheduled Cargo / DNC= Domestic Non-Scheduled Cargo / GND = On the ground / parked, stored / FMN= Flying Mission, Air Work / FRY = Ferry-, Positioning Flight / IMC = Intrument Meteorological (flying) Conditions / ISP = International Scheduled Passenger / ISC=International Scheduled Cargo / INP = International Non-Scheduled Passenger / INC =International Non-Scheduled Cargo/ OPS = Flight Operation(s) / NRV = Non-revenue, Private Flight / TRN =Training Flight /  TST = Test & Certification Flight / VMC = Visual Meteorological (flying) Conditions