2014-07-28 T.A. Ribeiro EMB-110 Bandeirante landed in corn field near Foz do Iguacu
The propeller driven aircraft sustained irrepairable damge in a forced landing after mechanical troubles.
Shortly after take-off from Cataratas Airport near Foz du Iquacu in western Parana State, the pilot reported machanical troubles and radioed that he was going to make an emergency landing.
However, the pilots were unable to return to the airfield and made a forced landing in a field near the city. The undercarriage entirely collapsed and the foreward fuselage receiving substantial damage.
All on board have survived the accident only one pilot sustained minor injuries.
The aircraft skidded to a halt after about 250 meters. The aircraft was disassembled on the spot and is declared hull loss.
Local aviation authorities habe begun an investigation.
---
OCCURENCE DATASET
Date: 2014-07-28 Time: 14:30
Location: near Foz do Iguacu, Parana
Country: Brazil
Flight phase: ENR2 – Climb above 1000 ft. AGL to Cruise; Climb from end of ICL to intended cruise level
Damage to a/c: hull loss
Flight
Flight no.: 
From: SBFI/IGU: Foz Do Iguacua To: SBBI/: Curitiba
Type: Passenger
Operator: Taxi Aereo Ribeiro
Aircraft
Type: Embraer EMB-110 Bandeirante
Registration: PT-TAW
Age a/c: 34,4 years
Constr. No.: 110258
Tweet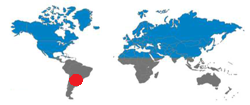 | | | | | |
| --- | --- | --- | --- | --- |
| | Crew | Pax | Other | Total |
| Occupants | 2 | 2 |  0 | 4 |
| Fatalities | 0 | 0 | 0 | 0 |
| Injuries | 1 | 0 | 0 | 1 |
JACDEC 20-year Statistics :
2nd safety occurence for the airline
95th hull loss of type
1st safety occurence at airport
1st safety occurence for aircraft in question
T.A. Ribeiro Report
Image & Information Sources
AP = Airport / AL = Airlines / Avn = Aviation / AW = Airways / C/N: Construction Number / DSP = Domestic Scheduled Passenger / DNP = Domestic Non-Scheduled Passenger / DSC = Domestic Scheduled Cargo / DNC= Domestic Non-Scheduled Cargo / GND = On the ground / parked, stored / FMN= Flying Mission, Air Work / FRY = Ferry-, Positioning Flight / IMC = Intrument Meteorological (flying) Conditions / ISP = International Scheduled Passenger / ISC=International Scheduled Cargo / INP = International Non-Scheduled Passenger / INC =International Non-Scheduled Cargo/ OPS = Flight Operation(s) / NRV = Non-revenue, Private Flight / TRN =Training Flight /  TST = Test & Certification Flight / VMC = Visual Meteorological (flying) Conditions