Aeroflot IL-96 caught fire and burned while parked empty
The aircraft was parked on the tarmac at Shermetievo Airport when under reasons yet to be established, a fire broke out in the foreward fuselage section. Flames and heat burned through the cabin roof making the aircraft a hull loss before the airport fire bridage arrived at the scene. The flames were extinguished after about one hour.
It appears the aircraft was empty at the time so no person was hurt in the event.
The aircraft was in a long term storage at Sheremetievo Airport since March 2014. Aeroflot recently retired all of their IL-96s.
NOTE: This incident marks the 1st ever hull loss of an Ilyushin IL-96.
Date: 2014-06-03 Time: 14:25:00
Location: UUEE SVO Moscow Sheremetyevo
Country: Russia
Google Maps: (Insert Link to Google here)
Flight phase: STD – Standing with Engine(s) not Operating
Damage to a/c: hull loss
Flight
Flight no.:
From: 0000/: NONE To: 0000/: NONE
Type: Ground
Operator: Aeroflot – Russian Airlines
Leased from: Unknown
Aircraft
Type: Ilyushin Il-96
Registration: RA-96010
Age a/c: 21.1041 years
Constr. No.: 74393201007
Jacdec Incident ID: 2014-06-03-IL96
Tweet
| | | | | |
| --- | --- | --- | --- | --- |
| | Crew | Pax | Other | Total |
| Occupants | 0 | 0 | | |
| Fatalities | 0 | 0 | 0 | 0 |
| Injuries | 0 | 0 | 0 | 0 |
Image & Information Sources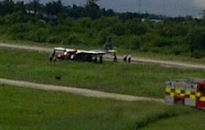 © Boris via TWITPIC

© AvTimes via Facebook
© LifeNews 


© A. Krylov via Twitpic

© LifeNews via YouTube
AP = Airport / AL = Airlines / Avn = Aviation / AW = Airways / C/N: Construction Number / DSP = Domestic Scheduled Passenger / DNP = Domestic Non-Scheduled Passenger / DSC = Domestic Scheduled Cargo / DNC= Domestic Non-Scheduled Cargo / GND = On the ground / parked, stored / FMN= Flying Mission, Air Work / FRY = Ferry-, Positioning Flight / IMC = Intrument Meteorological (flying) Conditions / ISP = International Scheduled Passenger / ISC=International Scheduled Cargo / INP = International Non-Scheduled Passenger / INC =International Non-Scheduled Cargo/ OPS = Flight Operation(s) / NRV = Non-revenue, Private Flight / TRN =Training Flight /  TST = Test & Certification Flight / VMC = Visual Meteorological (flying) Conditions